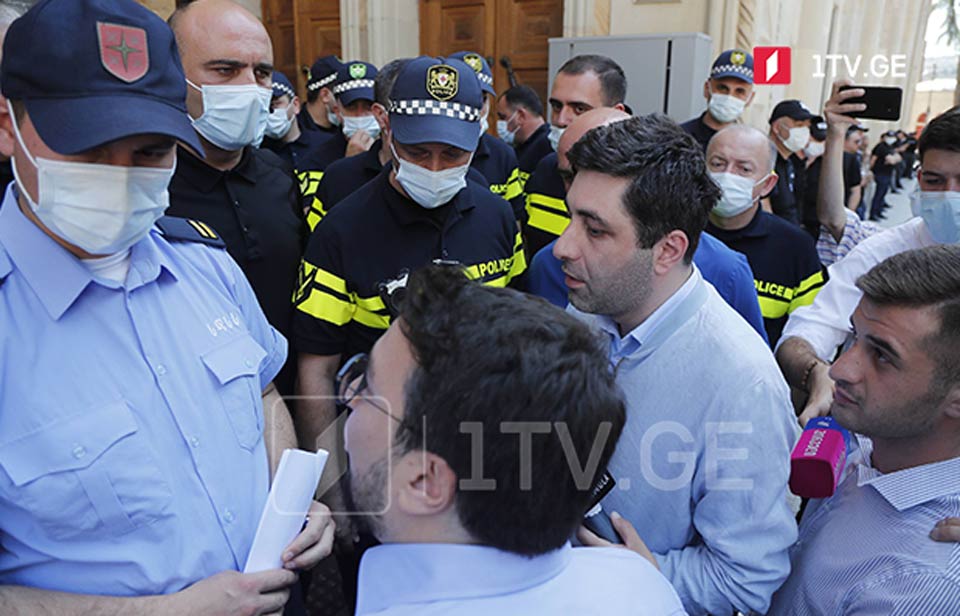 Journalists demand entry into parliament to ask Interior Minister questions over July 5-6 events
Media representatives demand entry into parliament to ask questions to Interior Minister over the July 5-6 events.
The members of opposition parties also joined the media outlets and verbally clashed with the police.
Today, Georgian Interior Minister Vakhtang Gomelauri is scheduled to address the MPs over the July 5-6 events at the extraordinary session.
All the media accreditation requests that the parliament received from media outlets were met, said Parliament Speaker Kakha Kuchava, adding that no additional entry passes will be issued today in a bit to avoid session disruption as it was attempted in the last week.
Several media executives, civil society, and opposition groups broke into the parliamentary session hall on July 12, occupied the Speaker's seat, displayed Georgian and EU flags, and did not allow the ruling party to start the session.
"You think invading the session hall and disrupting the session are the EU standards? Have you talked to MEPs? I have and they are staggered over the previous incident. Have you ever seen anything like that in any EU country?" Kuchava noted.
Fifty-three journalists were injured during July 5-6 violence, one of whom passed away on July 11.
TV Pirveli cameraman Lekso Lashkarava, 36, died six days later after being severely beaten by a far-right mob during the anti-Tbilisi Pride rally on July 5.