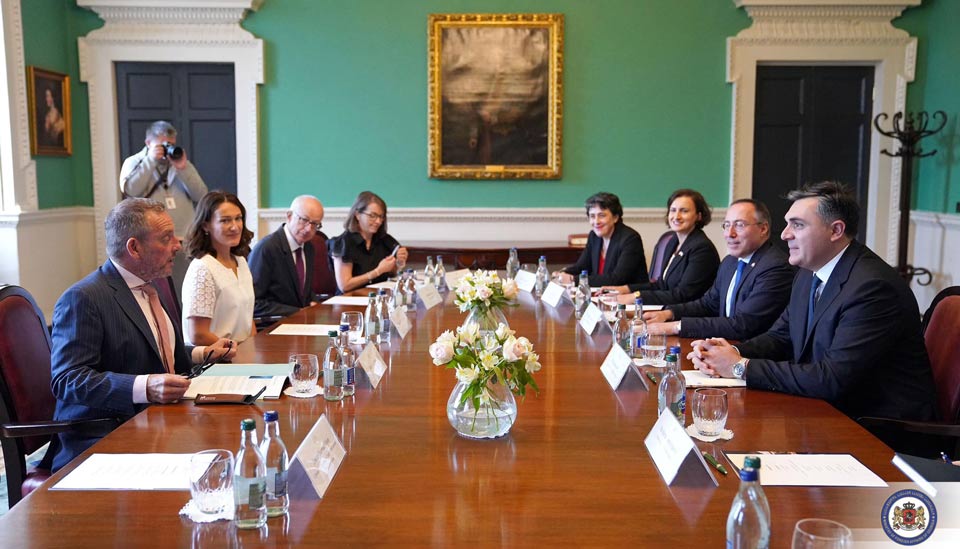 Irish Parliament and Senate pledge support for Georgia's EU membership
Ireland supports Georgia's accession to the European Union (EU) and the granting of candidate status to the country, the chairpersons of the Irish Senate and the Parliament, also the head of the Friendship Group with Georgia, stated during the meetings with Georgia's Foreign Minister, Ilia Darchiashvili, in Dublin.
According to Georgian MFA, Chairman of the Senate of Ireland, Jerry Buttimer, expressed readiness to work with the Georgian government on this matter. He emphasized that Ireland has greatly benefited from its EU membership and hopes that Georgia will also enjoy these benefits.
"I had a very good meeting with Georgia's Foreign Minister, a very strong positive conversation, in particular, on Georgia's application for joining the European Union. Ireland has benefited immensely from EU membership and I hope that it can be extended to Georgia in due course. Obviously, the European Union has certain criteria for Georgia to meet. Your government and the minister have informed us of the progress your country has made. Ireland has a parliamentary democracy. We have a very strong friendship group with Georgia, which supports Georgia's application for candidate status, the country's accession to the European Union. We look forward to working with the governments of Georgia and Ireland to ensure that the EU is enlarged in due course," said Jerry Buttimer following the meeting with the Georgian FM.
Sean O'Farrell, the Speaker of the Irish Parliament, highlighted the shared history and experiences of Georgia and Ireland, both having made significant efforts toward peace and stability.
"I am absolutely delighted that we have an opportunity this visit to have a visit from the Georgian Foreign Minister. It is very important that the ongoing work we are doing in consolidating relationships between Georgia and Irland. Ireland is a steadfast friend of Georgia, advocating strongly for Georgia's accession to the European Union. Ireland also has a commonality with Georgia. We have suffered for many decades because of internal strife and difficulties with Northern Ireland. We had troubles until the Good Friday Agreement. Accordingly, we sympathise and empathise with Georgia in terms of the situation in the regions of Abkhazia and South Ossetia", said the Irish Parliament Speaker.
Diarmuid Wilson, the head of the Friends of Georgia group in the Irish Senate, pointed out that the Irish Senate has consistently supported Georgia's European perspective through resolutions and remains committed to advocating for candidate status for Georgia.
"Irish Senat fully supports the candidate status to Georgia and Georgia's accession to the European Union. Last year, we unanimously passed a resolution supporting the granting of candidate status of Georgia, to be a member of the European Union. We were one of the few parliaments to do so. We fully support Georgia and its attempts to be a full member of the European Union", Diarmuid Wilson declared.