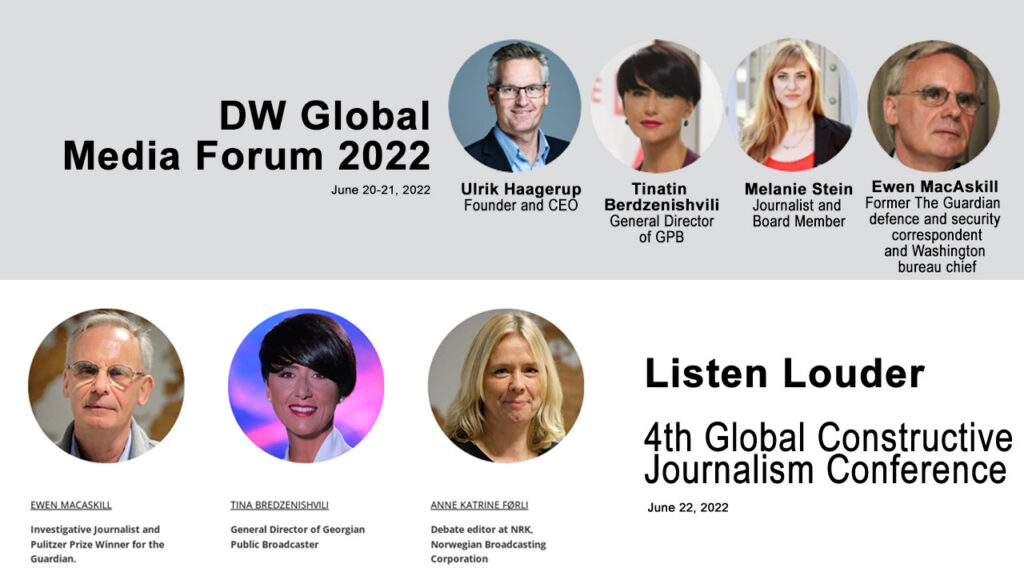 GPB Dir/Gen to partake at DW Global Media Forum and Global Constructive Journalism Conference
Georgian Public Broadcaster Director General Tinatin Berdzenishvili will partake in the Deutsche Welle's Global Media Forum discussion panel in Bonn, Germany, June 20-21.
Within the panel 'The news: more than a barometer of public opinion – How the pandemic has improved journalism', GPB Director General will review why constructive storytelling is essential not only for journalism but also for promoting democracy.
Ulrik Haagerup, founder of the Constructive Institute in Aarhus, Denmark, also Ewen MacAskill, former Guardian defence and security correspondent and Washington bureau chief, and Melanie Stei, journalist and Board Member of Bonn Institute, will also attend the panel.
In addition, Tinatin Berdzenishvili will take part in the panel Listen Louder at the 4th Global Constructive Journalism Conference in Bonn on June 22. The forum will discuss polarization as the next pandemic and rethinking the role of news reporting at a time of eroding trust in democracy, media and politics.
The meeting will try to find answers to the questions: How do we cover war and conflict constructively? How can we create dialogue in a room of conflict and not dig ditches deeper?
The panel will be joined by Esben Seerup, CEO of Danish TV2 Fyn, Jeremy Griffin, Executive Editor of The Times and Anne Katrine Forli, Debate editor at NRK, Norwegian Broadcasting Corporation.
The GPB First Channel has been practising constructive journalism for several months now – a standard of reporting already widely adopted in leading European countries. Eleven journalists from GPB have already completed a course at the Institute for Constructive Journalism at Aarhus University in Denmark. The training will resume in September 2022.