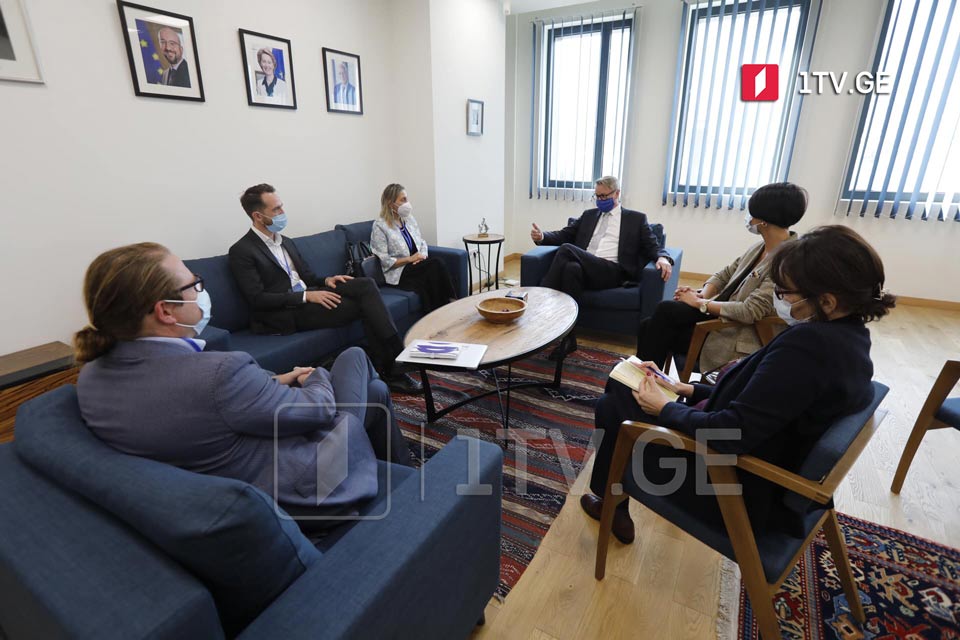 GPB Dir/Gen, EBU delegation meet EU Ambassador to Georgia
Director General of Georgian Public Broadcaster (GPB) Tinatin Berdzenishvili and the European Broadcasting Union (EBU) delegation held a meeting with EU Ambassador to Georgia Carl Hartzell on Wednesday.
Meeting with the EU Ambassador focused on the challenges the Georgian Public Broadcaster faces amid a polarized environment, plans and its role in strengthening democracy.
EBU representatives have previously met with the GPB management, the representatives of international organizations and the Council of Europe.
EBU delegation is represented by Sasha Scott, Research and Project Lead for the Digital Transformation Initiative, Radka Betcheva, Head of Member Relations Central and Eastern Europe and Wouter Quartier, Head of Digital Transformation and Platforms.
The EBU visit aims to evaluate GPB activity in terms of digital and modern technologies. GPB then will benefit from international experience that will help it overcome the existing challenges and maintain a competitive position in this industry.
GPB has been an active EBU member since 2005 and has a close, multifaceted and fruitful partnership with it.