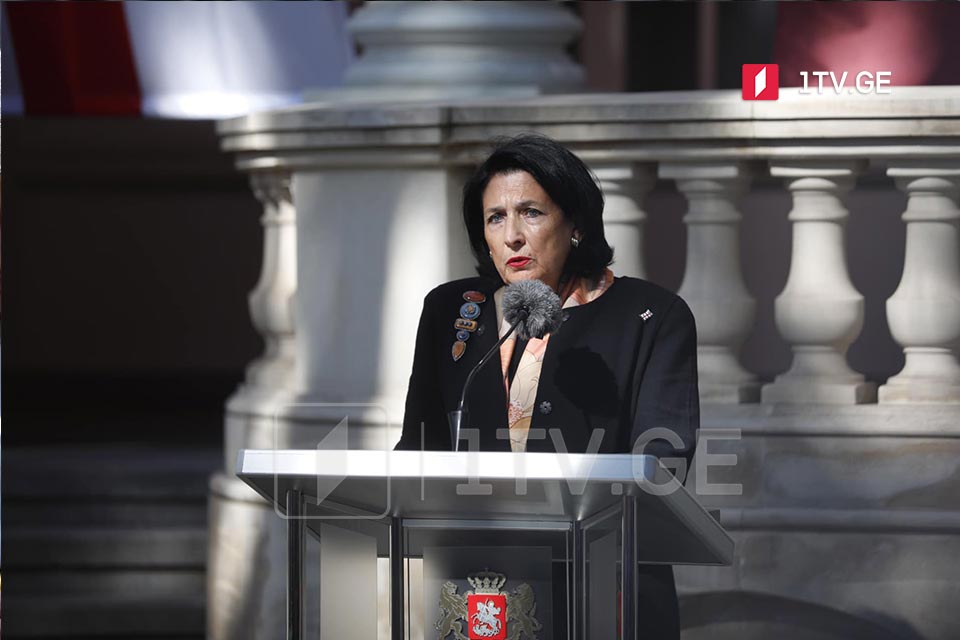 Georgia's gov't isolates itself, President Zourabichvili states
"The Georgian government has isolated itself; it has alienated itself from the democratic community," President Salome Zourabichvili stated in the Orbeliani Presidential Palace on the one-year anniversary of Russia's full-scale war against Ukraine.
According to the President, she regrets having such a stance from a country that has endured the same pain and the infringement of independence and sovereignty from the aggressor and understands the "bitterness of occupation."
Georgian society, according to President Zourabichvili, demonstrated solidarity with Ukraine through street protests and other means.
"As President of this country, I have expressed Georgia's unwavering support for Ukraine for one year and will continue to do so," she said.
Salome Zourabichvili also expressed regret that Georgia was solely represented in Kyiv by the opposition.
"I believe that, if not the Georgian government, the President of Georgia should have been in Kyiv today, and I have stated my willingness to be there. Regrettably, I was not invited. Rather the Parliament did not deem sending an official delegation important, despite the invitation," explained the President.
President Zourabichvili went on to say that Ukraine had set an example of unity and unification around a single goal for the rest of the world to follow. This unity yielded practical results.
"Russia has already been defeated in its avowed war targets; it could not destroy Ukraine's government, it could not exhaust the people's patience, and it could not undermine international support. On the contrary, trust and support for Ukraine's government and president are increasing by the day; unprecedented solidarity, support, not just verbally, not just financially, but with all available resources," the President remarked.
Salome Zourabichvili went on to say that Russia's nuclear blackmail and economic turmoil failed to counter the democratic world's unprecedented unity.
"This war may be regarded to have given birth to a new, self-assured, and powerful Europe, which could not have been established strategically until now. Now, Europe understands where the threat is coming from. Now, Ukraine is defending not only its own independence but also everyone's right to a free future," President Zourabichvili concluded.