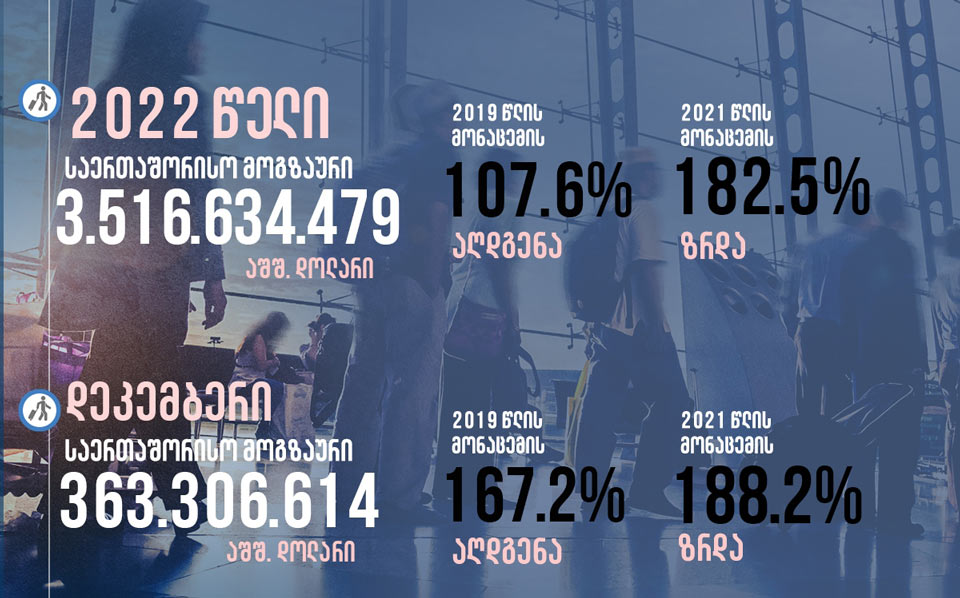 Georgia's 2022 int'l travel revenue hits $3.5 bln
Georgia's 2022 travel revenue reached a record amount of $3,516,634,479, a recovery of 107.6% over the comparable revenue earned in 2019, the National Tourism Administration announced on Monday.
The report claimed that, in comparison to 2021, travel income surged by + $ 2,271,692,761 (+182.5%).
Alluding to the dynamics of tourism recovery, the administration said, 5.4 million international travelers visited Georgia in 2022.
December 2022 was distinguished by the dynamics of tourism recovery. 564,656 foreign visitors came to Georgia during this time, a rise of +216.9 percent compared to 2021 and an 84.6 percent recovery of the 2019 record.
A total of 304,616 foreign tourists visited the country in December 2022, up +110.7 percent from 2021 and a 97.6 percent recovery from the 2019 data, the administration added.