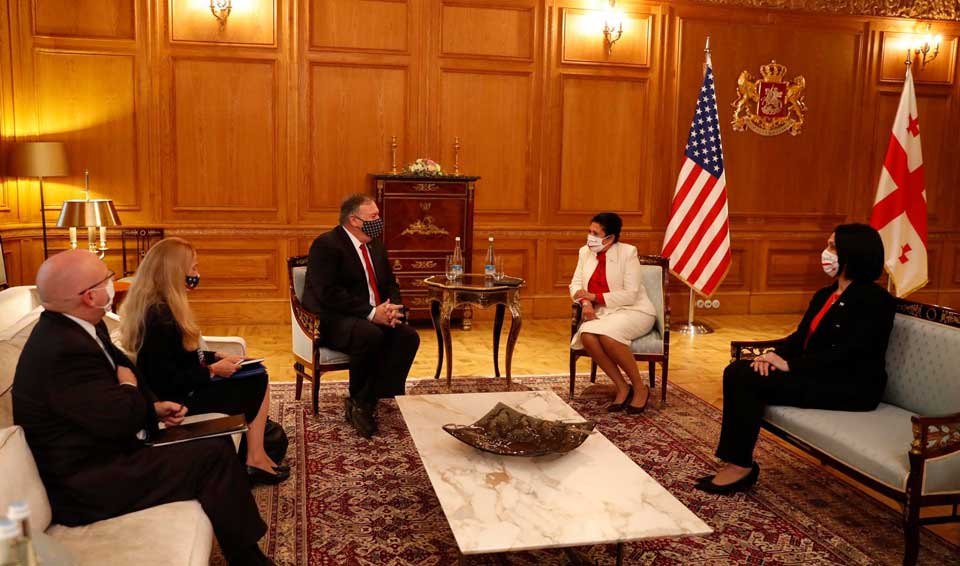 Georgian President to Mike Pompeo: Our region, the world need peaceful, stable, democratic Caucasus
"Our region and the world need a peaceful, stable and democratic Caucasus", stated President Salome Zourabishvili during her meeting with United States Secretary of State Michael Pompeo.
The President noted that the visit of the U.S. Secretary of State in the framework of his seven-nation tour confirms once again the importance of Georgia, the Caucasus and the Black Sea to the United States.
"This importance has further increased considering the background of the newly-formed situation in the region. Peace has no alternative, while the economic and political development of the region is our mutual interest. In protecting this mission, Georgia remains a noble partner and a reliable pillar of support," noted the President.
President Zourabichvili thanked the U.S. State Secretary for firmly supporting Georgia's territorial integrity and national sovereignty and noted that achieving de-occupation peacefully has no alternative. To this end, effective negotiations, strengthening of the Geneva International Discussions and all other possible formats are necessary.
The President noted that the friendship of Georgia and the United States counts three decades and during this period, it has never been questioned, as it is based on mutual values – democracy, rule of law and, most importantly, freedom.
During the meeting, the President expressed hope that cooperation between Georgia and the United States will take a step forward and negotiations on a free trade agreement will begin.
"Our relations will strengthen through the deepening of strategic partnership, cooperation on Black Sea security issues and U.S. support for Georgia on its path to Euro-Atlantic integration. These issues have strong support among the Georgian and American public and in across the political spectrum," noted President Zourabichvili.
After meeting with Georgian President Salome Zurabishvili, US Secretary of State Mike Pompeo is meeting with Georgian Prime Minister Giorgi Gakharia and Foreign Minister David Zalkaliani at the government administration.
Today, the US Secretary of State will also meet with the Catholicos-Patriarch of All Georgia Ilia II and civil society.
Mike Pompeo paid a two-day visit to Georgia yesterday. The US Secretary of State will end his visit to Georgia today and will leave for Israel.