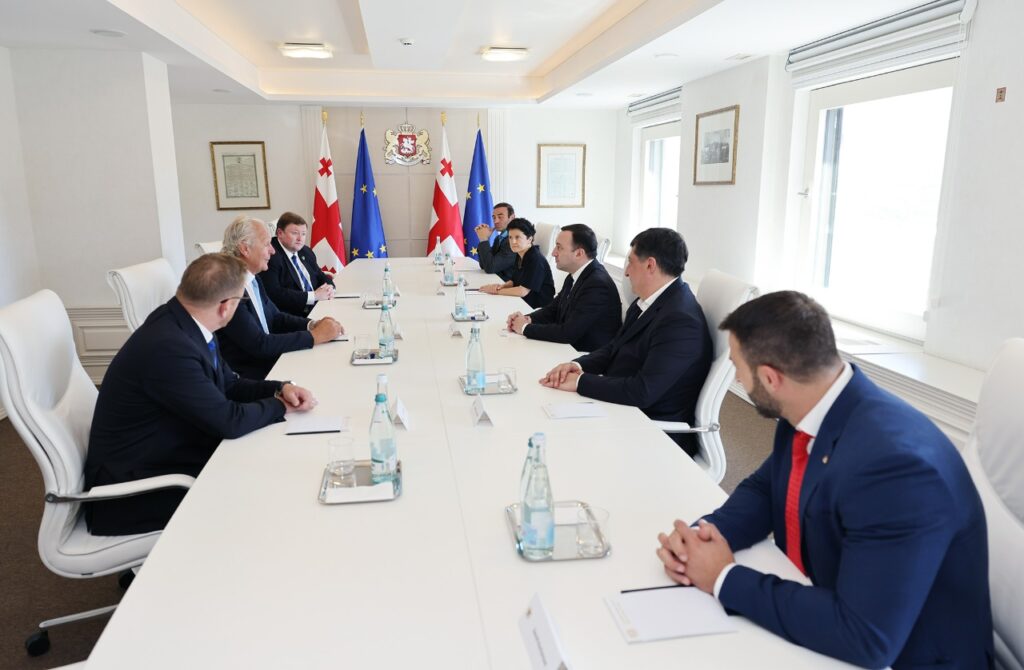 Georgian PM meets World Rugby President 
Georgian Prime Minister Irakli Garibashvili met Sir William Blackledge Beaumont, President of World Rugby on Tuesday, Press Service of the Government Administration reported.
Facilitated development of Georgian rugby and successful cooperation were discussed at the meeting. The Head of Government of Georgia expressed his gratitude to Sir William for supporting Georgian Rugby and for visiting the country.
According to the Prime Minister of Georgia, rugby has a great support from the Government of Georgia, which inter alia gets manifested in the increased funding from the State Budget and support will be actively pursued in future as well.
Role of Cartu Foundation was particularly noted in this regard, as it has been advancing and empowering rugby in Georgia. It was noted that donations made by Cartu Foundation for the building of rugby infrastructure and developing the system has exceeded 100 MLN USD. Cartu Foundation has commissioned the construction of 14 base stations and 27 playfields, culminating in the overwhelming success of Georgian rugby. It was also noted that unparalleled endeavors of Bidzina Ivanishvili have been acknowledged by the World Rugby with an IRB Development Award granted to him in 2014.
Meeting was also focused on the projects initiated by the Georgian Rugby Union, which enjoys great support from the Government of Georgia. Package includes concepts for 100 new game fields at 47 locations in various regions of the country, along with a project branded as a School Rugby aimed at enabling children all over the country to play rugby and gain access to a healthy lifestyle. The referred project is being implemented with support of the Cartu Foundation, Ministry of Culture, Sports and Youth of Georgia and Ministry of Education and Science of Georgia.