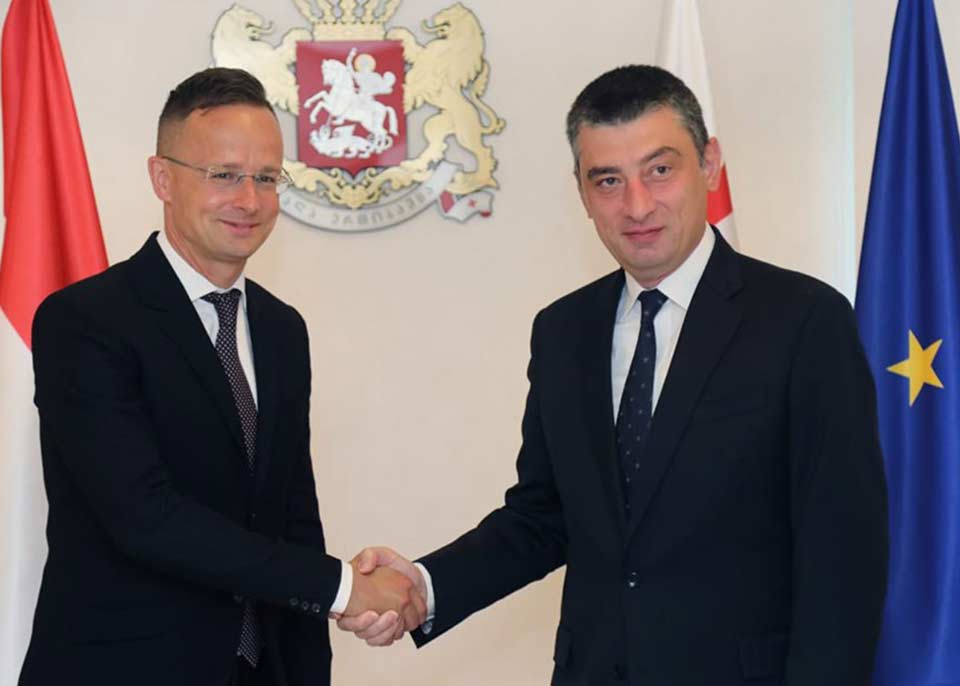 Georgian PM meets with Hungarian Minister of Foreign Affairs and Trade
Georgian Prime Minister Giorgi Gakharia has held a meeting with Hungarian Minister of Foreign Affairs and Trade Péter Szijjártó, Press Service of the Government Administration reported.
According to the parties, "the first high-level visit to Georgia since the beginning of the pandemic clearly demonstrates the close partnership and relations between Georgia and Hungary."
During the meeting, the Prime Minister of Georgia and the Minister of Foreign Affairs and Trade of Hungary discussed bilateral relations and prospects for the future, with special emphasis on Georgia's agenda for European and Euro-Atlantic integration.
Péter Szijjártó praised the reforms implemented by the Georgian Government and singled out the country as the leader of the Eastern Partnership and torchbearer in relations with NATO. According to him, "Georgia is a perfect example of the Alliance's excellent interaction with non-member states."
The conversation also revolved around the success of both countries in the fight against COVID-19. According to the Hungarian side, "Georgia has significant positive results in this direction, notably the decisions of the country's leadership and the efforts of its citizens."
The Hungarian Minister of Foreign Affairs and Trade also underlined Georgia's favourable business environment and the desire of Hungarian companies to do business in Georgia. The successful operations of Hungarian Wizz Air in Georgia were emphasized, among others.
The conversation pointed out the importance of intensifying tourism between the countries as soon as the opportunity presents itself. The parties also emphasized that international travel restrictions will be eased in stages, incrementally and with caution, to ensure against posing a threat to the lives and health of citizens, and against compromising the results achieved so far.
Péter Szijjártó reaffirmed Hungary's strong, unwavering support for Georgia's sovereignty and territorial integrity.
The meeting at the Administration of the Government was attended by Georgian Foreign Minister David Zalkaliani, Head of the Government's Administration Natia Mezvrishvili, and the Prime Minister's Foreign Affairs Advisor Irakli Chikovani.