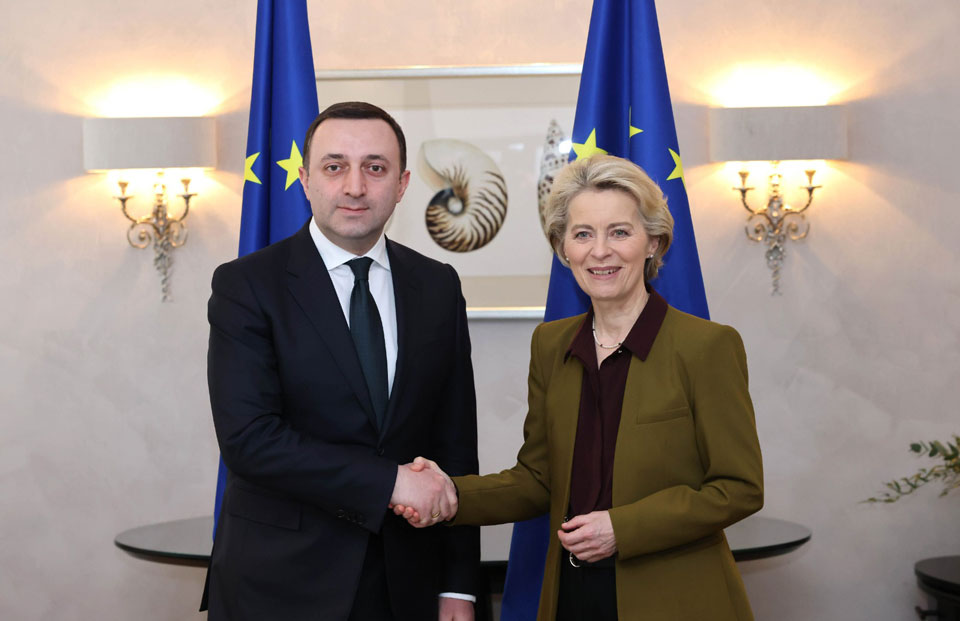 Georgian PM meets EC President in Munich
The steps taken by Georgia on the path of European Union integration and the security environment in the region were the main issues discussed by Georgian Prime Minister Irakli Gharibashvili and the European Commission President Ursula von der Leyen at the meeting held within the framework of the Munich Security Conference (MSC).
At the meeting, the PM provided detailed information to the EC President about the fulfilment of 12 priorities, most of which have been fully implemented, and some of the legislative acts have been sent to the Venice Commission for conclusion.
The analytical report recently published by the European Commission on Georgia, which reflects Georgia's significant progress in terms of compliance of national legislation with EU legislation, was highlighted.
The Prime Minister expressed hope that the European Commission, under the leadership of President Ursula von der Leyen, would continue to support Georgia and this year another historic decision would be made, which is to grant Georgia a candidate status.
The PM and the EC President also spoke about the importance of the Black Sea project initiated by Georgia. The parties noted that this project will promote the development of the renewable energy sector and increase transit and trade opportunities between the EU and the South Caucasus region.
The conversation also touched on Russia's aggression in Ukraine and its impact on Georgia, the region and the world.