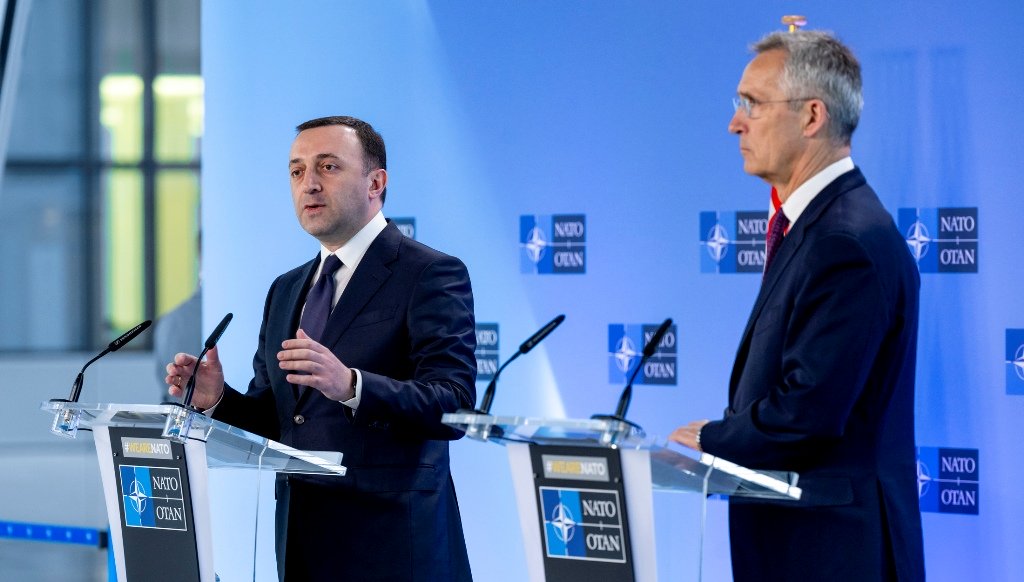 Georgian PM expresses readiness to deepen NATO cooperation
We stand ready to deepen our political dialogue and practical cooperation with NATO in all dimensions, Georgian Prime Minister Irakli Garibashvili said at the joint press briefing following his meeting with NATO Secretary General Jens Stoltenberg in Brussels.
The Georgian Prime Minister thanked NATO Secretary General for supporting Georgia's Euro-Atlantic integration path.
"Secretary General let me first of all thank you for the opportunity to meet and have a discussion on the busy agenda of the bilateral cooperation, especially in today's turbulent security environment, the war in Ukraine, which is a huge challenge for us, for the European security architecture, for Georgia and for our region. Plus, Georgia has its own problem with Russia, the ongoing occupation. Therefore, I am grateful for this meeting.
I also want to thank you for your personal dedication and leadership to make NATO more united and strong and for advancing cooperation with partners. Let me also express our strong appreciation for the allies' support of Georgia's Euro-Atlantic aspirations as well as unwavering support for Georgia's sovereignty and territorial integrity within its internationally recognized borders," he said.
According to PM, Georgia's Euro-Atlantic integration remains the main priority of Georgia's foreign policy.
"As one of the most reliable and capable partners, Georgia is a track record of active participation in NATO missions and operations in Iraq and Afghanistan. Our strong contribution to the common Euro-Atlantic peace and security is well known. Georgia's Euro-Atlantic aspiration remains our top foreign policy priority.
I also want to mention that we have achieved significant progress during the last ten years. We signed an Association Agreement and a Free Trade Agreement  with the European Union, we got a visa-free regime. Last year, we received the European perspective, which is a historic decision, and now are working actively on the implementation of the so-called 12 priorities, which will be finalized soon. We are confident that Georgia deserves the candidate status.
Also, I want to mention that I was privileged to open a joint training centre together with you back in 2015, which is a clear example of our successful cooperation. Since then the centre has been operating very successfully. I want to also thank you for this. we stand ready to deepen our political dialogue and practical cooperation with NATO in all dimensions," he stated.