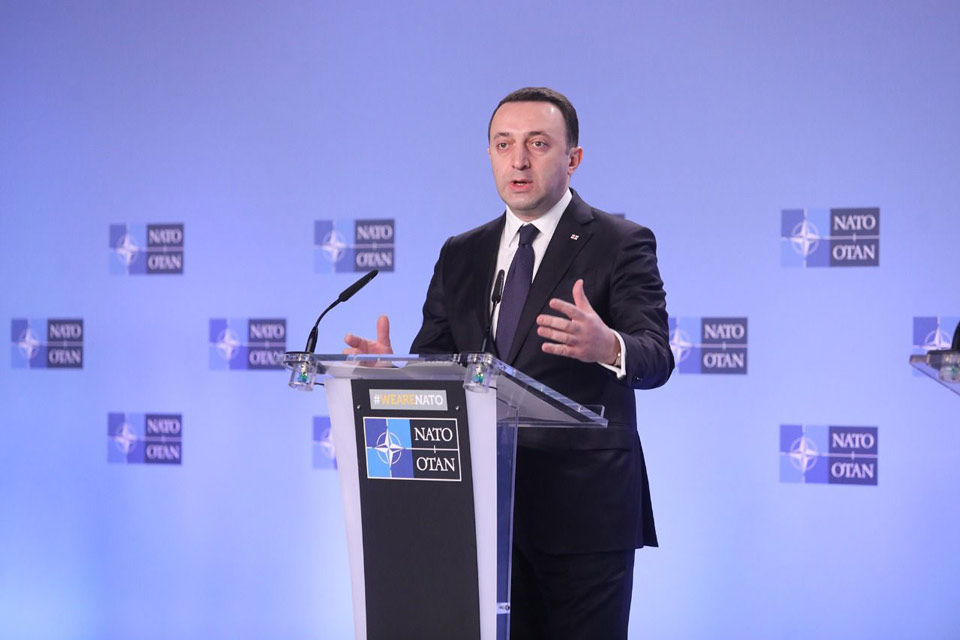 PM: Georgia achieved significant progress on its Euro-Atlantic integration course. Time has come to advance integration process
NATO Secretary General, Jens Stoltenberg and the Georgian Prime Minister, Irakli Garibashvili held a meeting at NATO HQ today, followed by the press statements.
In his speech, PM Garibashvili said he had a very "fruitful" discussion with Jens Stoltenberg as the parties reviewed "the security situation in Georgia, in the region, of course, the ongoing Russian occupation."
Prime Minister's remarks are in full below:
"I would like to thank you for hosting me in NATO HQ today. It is always an honor to discuss our dynamic relations and comprehensive agenda of NATO-Georgia cooperation and of course, our integration path.

I have said it many times, and I want to repeat once again that membership of NATO is a top foreign and security policy priority of Georgia, which is supported by the absolute majority of our people. We are working closely with the Alliance to elaborate a clear vision of Georgia's eventual integration to NATO.

We already have all practical tools to join NATO, – and for that, we have an active dialogue with the allies to prepare political decision regarding Georgia's accession to NATO.

Let me also remind everyobe that at the 2008 Bucharest Summit, Allies decided that Georgia will become member of the Alliance. This was a very strong message back then which still resonates today, and that is why we are so diligent on the path of realization of 2008 Bucharest summit decision.

Each and every state has the sovereign right to choose their own foreign policy course. This decision is the cornerstone on which Georgia's NATO membership process is based. We believe that successful implementation of this choice is as relevant for NATO as is for Georgia.

We have tangible results in the process of deepening practical cooperation. NATO's footprint is increasing gradually on the ground, through the successful implementation of the updated Substantial NATO-Georgia Package (SNGP). And this success would be impossible without an active engagement of the NATO member states and I would like to thank you and I would like to express our gratitude to the Allies for their efforts and dedication.

Our practical cooperation with NATO is also successfully developing within Black Sea security cooperation. It has become evident that Euro-Atlantic security is impossible without secure and stable Black Sea region. It is impossible to ensure sustainability of Euro-Atlantic Security infrastructure without sustainable Black Sea Security.

Therefore, we welcome NATO's increased presence in the Black Sea which is vitally important for maintaining stability in our region. We also welcome NATOs decision to update its Strategic Concept and we believe that Open Door policy and issues of Georgia's NATO integration will be adequately reflected in the document.

Let me take this opportunity and express our gratitude to the allies for their consistent support to Georgia's sovereignty, territorial integrity and non-recognition policy. This is something that Georgian people value and cherish greatly.

I would like to thank Secretary General for his personal efforts, for playing a pivotal role in moving forward Georgia's NATO integration process. Georgia has achieved a significant progress on its Euro-Atlantic integration course, and we believe that time has come to advance the integration process and take concrete political decisions. This will be a clear message to aspirant countries that the commitment dedication and hard work pays off. It will be a strong message that will echo to the whole wider region that NATO is as present and as strong as ever," PM underscored.
? [LIVE] Watch #NATO Secretary General @jensstoltenberg's press statement with Prime Minister @GharibashviliGe of Georgia ?? https://t.co/u1Uoa6PdVD

— Oana Lungescu (@NATOpress) December 15, 2021