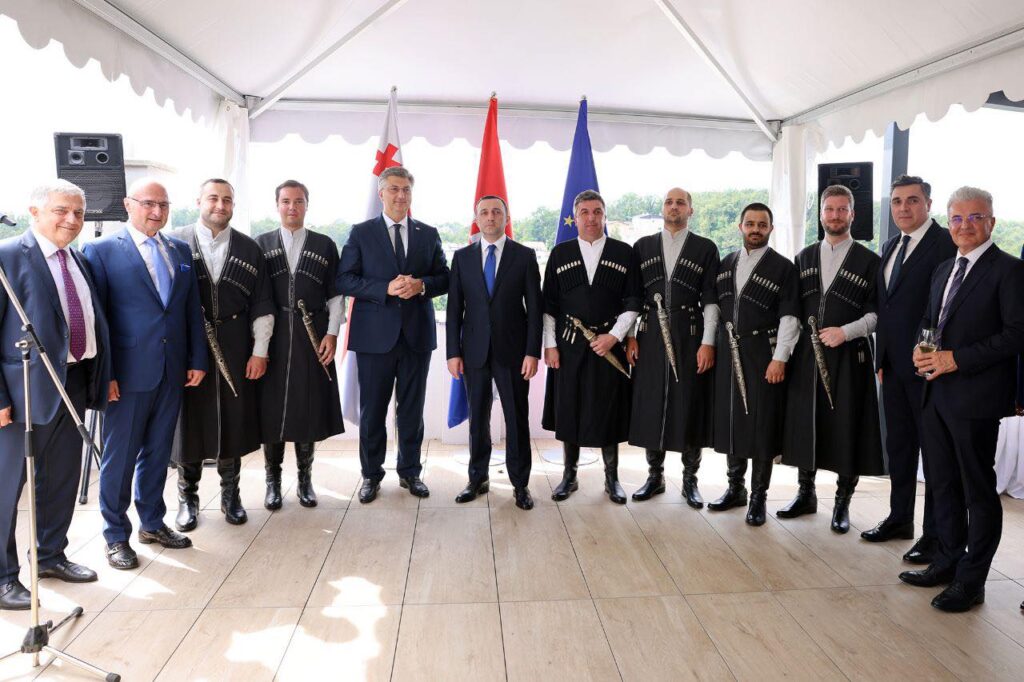 Georgian, Croatian PMs attend opening of Georgia's Embassy in Zagreb
Georgian Prime Minister Irakli Garibashvili, together with Croatian Prime Minister Andrej Plenković, attended the official opening of Georgia's Embassy in Zagreb today.
Irakli Garibashvili and Andrej Plenković addressed the attending audience with speeches and spoke about the importance of the Embassy's inauguration.
Below is their full speech as delivered:
"Prime Minister Plenković, my dear friend, my dear colleague, Excellencies, dear friends! First of all, I am so privileged and I am so happy to be here in the Republic of Croatia, in Zagreb, in the capital. Today we commemorate the 30th anniversary of our diplomatic relations. Second, of course, we celebrate the opening of our Embassy. I have to say that our Ambassador has good taste. He chose a fantastic location, and the view is fantastic. And third, of course, this is my first official visit to your beautiful country. Prime Minister, thank you very much for your warm hospitality, your welcome. I am extremely grateful for your support to Georgia's sovereignty and territorial integrity, Georgia's Euro-Atlantic aspirations. Croatia has always been a very strong supporter of Georgia's European future. And, Prime Minister Plenković, we thank you again for your support, for your friendship. And I want to once again use this opportunity and express my gratitude on behalf of my Government and on behalf of our people. We thank you again. And lastly I want to say that since we decided to open the Embassy in Croatia, in Zagreb, this is another demonstration that we are indeed interested and committed to our friendship, to our partnership. We are elevating our relationship to the next level. So, once again thank you and welcome to our Embassy," Georgian Prime Minister Irakli Garibashvili stated.
As Croatian Prime Minister Andrej Plenković noted, today marks a historic event, because the Prime Minister of Georgia is holding his first official visit to Croatia.
"Dear Prime Minister, dear Irakli! Welcome to Croatia! And thank you, Ambassador Gogsadze, for hosting us here in the newly opened Georgian Embassy in Zagreb. I also greet Foreign Minister Darchiashvili, my Minister Grlić-Radman. Greetings to all our Georgian friends and also the Croatian dignitaries who are present here. Warm thanks to the fantastic acapella singing. I think all of us Croats were really impressed with the way that you sang both the Georgia anthem and also the Croatian anthem. If I did not know you were Georgians, I would say, 'Which group is this? From what part of Croatia are they coming?' So, we are very moved and honored to have you here. And thank you, Prime Minister, for bringing them to this occasion. Today is indeed a historic moment. It is the first visit of the Georgian Prime Minister to Croatia. Irakli I met tomorrow exactly 8 years ago when I was still a Member of the European Parliament, and you were in your first mandate as Prime Minister of Georgia—in Tbilisi, when I visited your beautiful country, and when I understood deeply, firsthand the complexities in which you found yourselves during your history and also in the context of the occupied territories of South Ossetia and Abkhazia.

"You have managed to sustain the pressures, and that is why we of course support and respect your sovereignty and territorial integrity, and your endeavor to finally come to a solution that would be a completed Georgian territory under the legal and constitutional control of your Government. This is something we wish to you because, unfortunately, Croatia was in a similar situation during the 1990s, and it took us 7 years to get back into the legal and constitutional order the entire territory of the country, and we have a lot of understanding and empathy with what you are doing.

"At the same time, we are very supportive of your European and Trans-Atlantic ambitions and aspirations. We supported the granting of the candidate status and the European perspective to Georgia in the European Council a year ago. We look very much forward to fulfilment of the criteria set in front of the Georgian Government, and the further decisions that will be taken on the level of the European Union will be favorable to your ambitions, and also toward the next institutional step—and that is the opening of accession negotiations.

"Also, we very much salute your transformation in the security and defense sectors, and also greet the opening perspective for NATO membership of Georgia once the conditions are met.

"Bilaterally, I believe that there are many similarities between our countries. We have agreed today that we should improve our economic relations, we should strive for more cultural cooperation, and in particular try to see what are the dots that we need to connect in the new energy context, especially because of your geostrategic position, our geostrategic position, and cooperation across Europe in the context of the gradual abandonment of fossil fuels and more investment in renewable energy.

"In that respect, I very much look forward to the activities of your Ambassador and your team here in Zagreb, which will certainly be the engine that will provide more ideas and initiatives in increasing the cooperation between Georgia and Croatia. On behalf of myself, the Foreign Minister, and the entire Government, and our co-workers, I wish a lot of good luck to your Ambassador and your team. And I thank you very much for the invitation to visit Tbilisi. We will look for the date when I could pay a return visit just as you did here on the occasion of the 30th anniversary of the establishment of diplomatic relations between Georgia and Croatia. Thank you very much, dear Irakli. Thank you, Foreign Minister and Ambassador," the Prime Minister of Croatia stated.
At the Embassy's opening event, Herio Ensemble performed the national anthems of Georgia and Croatia.
The event was also attended by the Foreign Ministers of the two countries and other officials.
Until now, Georgia's diplomatic coverage of the Republic of Croatia was previously carried out from Hungary.