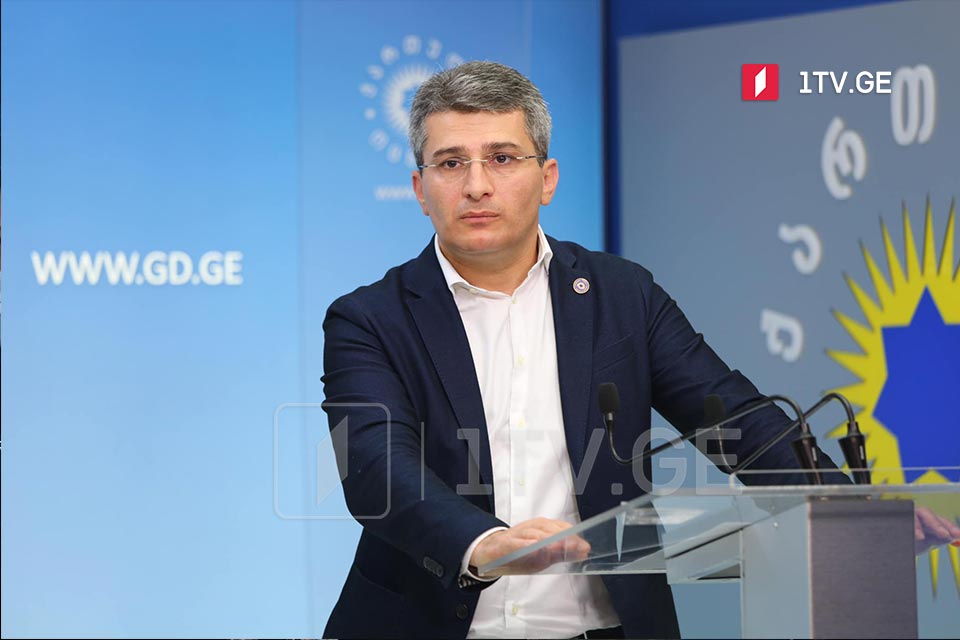 GD's Mdinaradze urges Droa's Khoshtaria to disclose her RUB income since August 2008 war
Ruling Georgian Dream Executive Secretary Mamuka Mdinaradze says today's topical questions concern those working for Russia in Georgia, backing Russian provocation and triggering unrest, chaos and the country's European integration delay.
Amid these developments, Mdinaradze questions Droa movement leader Elene Khoshtaria's interests, calling her to disclose complete information about "every ruble she received from Russia since August 2008." He also advises her to transfer this very money to the Ukraine Aid Fund.
Mdinaradze believes it is a "double standard and falsity" when a person convinces the public that everything Russian is unacceptable "but does not refuse Russian money."
The MP claims Elene Khoshtaria was one of the "main instigators" of all the provocations that Russia has enjoyed in recent years.
"We all remember her actions three years ago, on June 20, which finally allowed Russia to ban flights to Georgia and deal a severe economic blow to the country.

We all remember her actions against [Russian Journalist Vladimir] Pozner, 80, fueling Russia's aggressive rhetoric against Georgia.

Her father's past heightens doubts. Zviad Gamsakhurdia [Ex-Georgian President] actively spoke about it. Also, Khoshtaria graduated from MGIMO [Moscow State Institute of International Relations] and is a Russian international security specialist.

The fact is that Khoshtaria's actions have served the interests of Russia's international security all these years," Mdinaradze noted.
The GD Executive Secretary says, "if Khoshtaria has nothing to hide and all said concerns her inherited retainers, then disclosure of transfers does not seem to be an issue."
"But if Khoshtaria and her family refuse to do so, investigative bodies should pay attention so that the Georgian state secure itself from the influence of Russian soft power on the ongoing political processes in Georgia," he stated.
Mdinaradze also echoed today's rally, saying "when depolarization is the initial leg of the European Commission's recommendation, part of our opposition is calling for protest rallies." He added depolarization is the only point that has not been covered by the recommendations to either Ukraine or Moldova.
A rally entitled "Home to Europe" organized by the civic movement Shame and NGOs is slated for today at 8 pm in the Georgian capital Tbilisi.
On June 17, European Commission published a recommendation to greenlight EU candidate status for Ukraine and Moldova, while Georgia should meet certain conditions first. Until then, it benefits from a 'European perspective.'
On June 23-24, the Georgian government will receive a response from the European Council to its application for EU membership, which the country has completed together with Ukraine and Moldova.