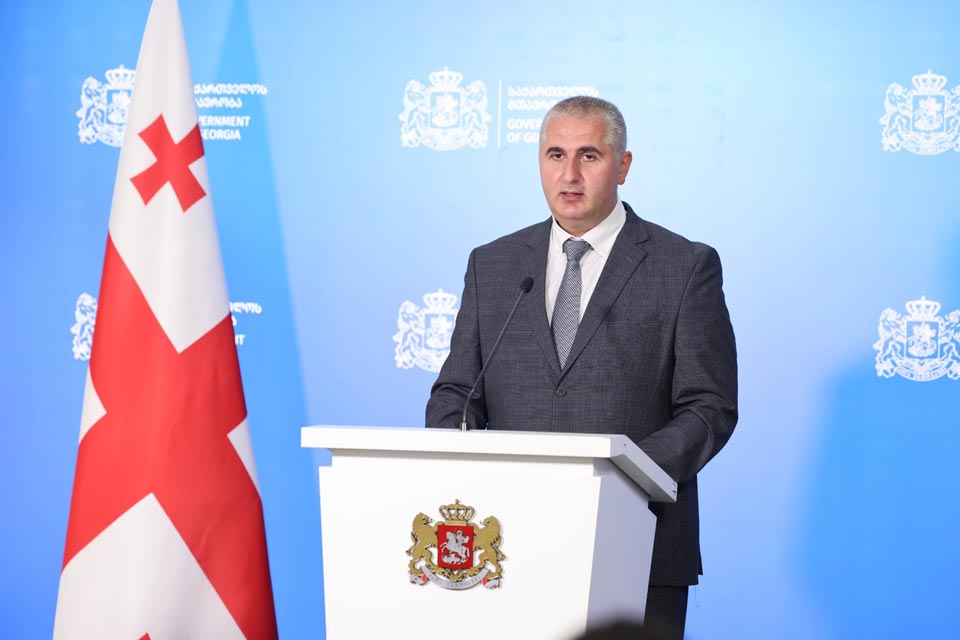 Finance Minister outlines key parameters of 2024 draft budget
The Georgian Finance Minister, Lasha Khutsishvili, outlined the key parameters of the 2024 draft budget at a briefing following the Cabinet Meeting on Friday.
According to the Finance Minister, real economic growth in 2024 is planned at 5.2%, while the nominal GDP forecast is GEL 85.4 billion. The gross domestic product per capita is anticipated to surpass USD 8,600.
The forecast indicates a further increase in nominal gross domestic product to GEL 108.0 billion by 2027. Per capita, this would exceed USD 10,900.
"In 2024, tax revenues for the consolidated budget amount to GEL 21.2 billion, which is 24.9% of GDP; the combined budget deficit is 2.5% of GDP, and government debt stands at 38.2% of GDP. The total expenditure on the consolidated budget is GEL 27.8 billion.
Social directions:
The funding of the health and social protection programs increased by over GEL 870.0 million.
Pensions for individuals aged 70 and over rise by GEL 50 to GEL 415, and pensioners of the same category in the highland settlements will receive GEL 498;
Pensions for individuals under 70 increase by GEL 20 to GEL 315, and in the highland settlements, it amounts to GEL 378;
Social allowance for persons with grave disabilities and under 18 increased by GEL 50, and for the other categories of disabled persons by GEL 20;
Full-year financing of children's social assistance increased to GEL 200 in July.
Total financing for social programs amounts to GEL 5.6 billion.
GEL 1.6 billion was allocated for healthcare programs, including a 10% increase in the salaries of primary healthcare personnel.
GEL 230.0 million was provided for housing for displaced persons.
Education:
Funding for education and science increases by over GEL 470.0 million;
10% increase is projected in the salaries of public school administrative staff and junior police officers;
Over GEL 350.0 million is allocated for the construction and rehabilitation of public schools;
Construction and rehabilitation of kindergartens receive over GEL 225.0 million;
Salaries of kindergarten employees increased by GEL 100.
Also, the Ministry of Education and Science is working on the reform of the teachers' remuneration system.
Salaries of police, soldiers, and security personnel increased by 10%. Financing for the Ministry of Defence, Ministry of Internal Affairs, and the Security Service increased to GEL 240 million and GEL 330.0 million is allocated for defence infrastructure and capacity development.
Following legislative changes in 2022, salaries of employees in budgetary organizations will increase by 10%.
To stimulate economic growth:
In 2024, over GEL 6.0 billion will be allocated to infrastructure development from the consolidated budget.
This includes:
Over GEL 1.7 billion for enhancing road infrastructure, with over GEL 1.2 billion specifically designated for the construction of high-speed highways;
A provision of over GEL 1.9 billion GEL for the improvement of municipal infrastructure;
Allocation of more than GEL 500.0 million GEL for the enhancement of the water supply and drainage sector;
Over GEL 700.0 million for educational infrastructure;
More than GEL 170.0 million for the improvement of tourist infrastructure;
To support small and medium-sized businesses, over GEL 300.0 million is allocated in 2024.
Additionally, more than GEL 560.0 million GEL is the agricultural program funding. An allocation of up to GEL 180.0 million is designated for the financing of environmental protection programs. Over GEL 850.0 million will be directed from the consolidated budget to culture and sports financing, with an additional GEL 460.0 million provided within the state budget," Lasha Khutsishvili said.