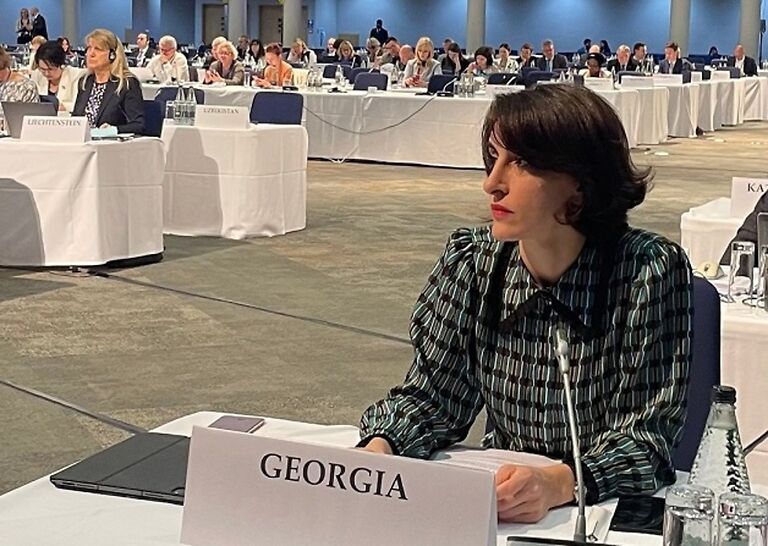 European Integration Committee Chair takes part in OSCE PA
Chair of the European Integration Committee and a member of the permanent delegation of the Georgian parliament to the OSCE Parliamentary Assembly, Maka Bochorishvili, is taking part in the summer session of the OSCE PA in Birmingham (United Kingdom of Great Britain and Ireland).
The OSCE PA's Committee on Democracy, Human Rights and Humanitarian Affairs approved a resolution on the security of people in the OSCE region and security challenges in the European region in general. The resolution focuses on Russia's aggression in Ukraine, which brought the war back to Europe and caused many casualties and internally displaced persons.
Upon Maka Bochorishvili's initiative, a paragraph regarding the situation in the occupied regions of Georgia was added to the resolution.
"The Assembly condemns the deteriorating situation in terms of humanitarian and human rights in the regions of Georgia occupied by Russia – Abkhazia and Tskhinvali region/South Ossetia, which is caused by gross violations of the basic rights and freedoms of the population living there, various forms of discrimination against ethnic Georgians, as well as the destruction of Georgian cultural heritage in both regions by erasing and changing monuments, which directly results from the current occupation of Russia and the Russification policy," the resolution reads.
Maka Bochorishvili also participated in the Committee on Democracy, Human Rights and Humanitarian Affairs debates.
"Georgia was one of the first victims of Russian aggression and illegal occupation, which is an obvious violation of international law and obligations. For almost 14 years, every year, we have been talking about the terrible, tense and highly unstable humanitarian and security environment of human rights in the two indivisible regions of Georgia occupied by Russia," she said.
The Committee Chair noted that the Russian occupying forces continue to impose various restrictions, which prevent access to families, property, agricultural fields, religious sanctuaries and cemeteries, as well as access to healthcare, emergency aid and education services of the population affected by the conflict in Georgia.
Maka Bochorishvili emphasized the importance of the OSCE taking efficient steps against Russia's aggressive actions.