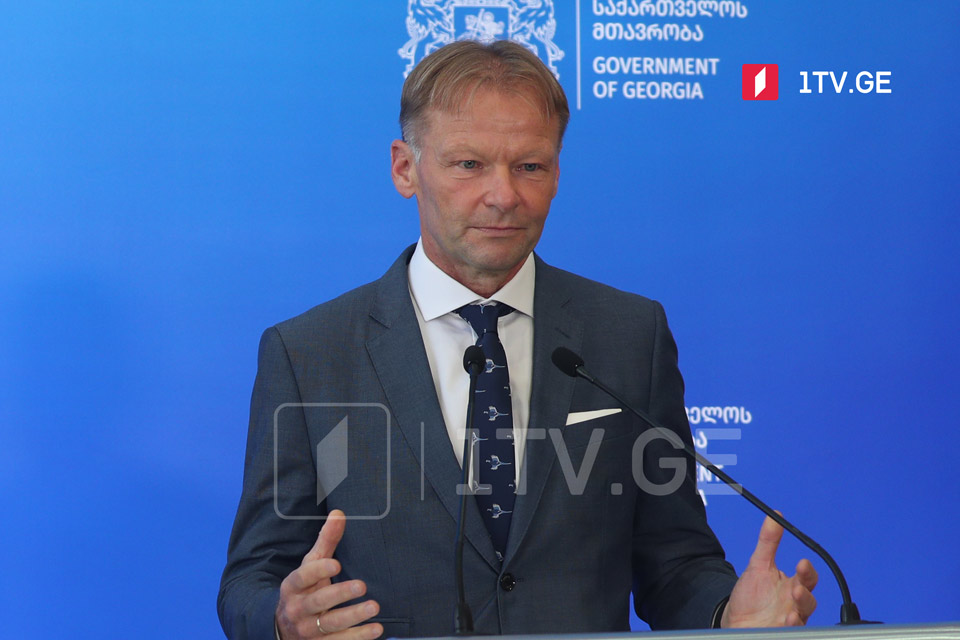 EURACTIV: Georgia's successful economic policies provide strong foundation for its EU integration
"In the current environment characterised by a starting recession in Europe, growing public deficits and debts and instability in Eurasia, one country goes against this trend: the Republic of Georgia," writes EURACTIV on Georgia's economy.
The author of the article is Vazil Hudak, an economic advisor to the prime minister of Georgia.
Here is the article in full:
According to international financial institutions, Georgia will achieve the fastest economic growth in the medium term among regional and European countries. The International Monetary Fund expects Georgia's GDP growth in 2022 will equal 10%.
At the same time, the government of Georgia will continue its focus on building strong macroeconomic fundamentals and fiscal discipline. Public deficit for 2022 is expected to be around 3.1% (a major decrease from 6.1% in 2021), and it will converge to the fiscal rule target requiring a deficit below 3% of GDP in 2023.
Public debt that amounted to 60.1% in 2021 will decrease to 49% in 2022 and is expected to fall even further in 2023. Many EU member states must feel envious when looking at these numbers. GDP per capita has increased from 5000 USD in 2021 to 6,600 USD in 2022.
These impressive numbers didn't come easy, particularly in the environment of the COVID-19 pandemic, followed by the war in Ukraine. They resulted from the Georgian government's hard work, led by Prime Minister Irakli Garibashvili, which combined a strategic approach with flexibility reflecting the fast-changing situation, regionally and globally.
Georgia's economic miracle has been driven by a strong export performance and FDI inflows supported by growing tourism and transport revenues. In January-August 2022, merchandise export increased by 37%, despite falling exports to Russia.
Tourism revenues increased by 156%. FDI has doubled and amounted to 923 million USD, thus representing 63% growth over the same period of 2019. EU share in FDI flows equalled 43%. The FDI from Russia was negative.
The war in Ukraine significantly increased the role of Georgia as a key transit country for transport between Europe and Asia. Black Sea connectivity is now more important than ever, given the urgent need for the diversification of supply chains in the trade between Europe and Asia.
In January-August 2022, the international cargo traffic in Georgia grew by 19.4%, amounting to 17.9 million tons.
The government of Georgia undertook several innovative measures to translate this impressive macroeconomic performance into the improved well-being of Georgia's citizens.
The construction of an "Army City" that will provide new housing for more than 1,000 military personnel was initiated. A similar program for police officers was launched as well. Over 1383 IDP families (internally displaced persons due to the 2008 war with Russia) received new housing through innovative public-private partnership schemes.
This experience may be relevant for Ukraine when dealing with its own IDPs due to Russian aggression.
A large-scale public works employment program was launched, which aims to employ the persons who depend on receiving state social benefits. The suppliers of work are state agencies and local self-governments.
Almost 50,000 citizens have applied so far to participate in this social program. Thanks to government intervention, Georgians enjoy cheaper medicine.
The government of Georgia has launched several flagship projects in the framework of the EU's Economic and Investment Plan in the Eastern Partnership region.
These projects include improving transport, energy, and digital connectivity between Georgia and the EU via the Black Sea; integration of Georgian SMEs into wider EU value chains; improving digital connectivity for Georgian citizens and promoting energy efficiency in residential apartment buildings.
I believe these facts speak for themselves. Georgia is a modern, dynamic country and a strong ally of the West in the turbulent Eurasian region. It should be treated accordingly in the context of EU enlargement as well.
Of course, it doesn't mean that the government of Georgia underestimates the importance of the issues identified in the European Commission's Opinion on Georgia's application for EU membership in June 2022.
Tbilisi knows what needs to be done, and prime minister Garibashvili is committed to addressing challenges, including all those that are key for making progress in its aspiration towards the EU.
Successful economic policies supported by the tangible achievements described above provide a strong foundation for Georgia's closer integration with the European Union.