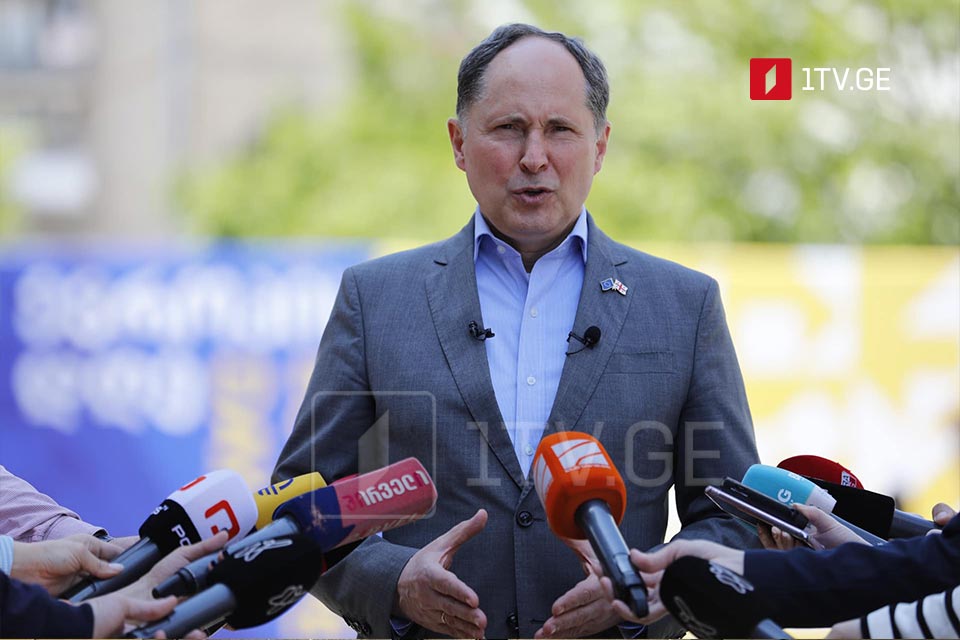 EU Ambassador: We regret Georgian gov's decision to accept direct flights with Russia
EU Ambassador to Georgia, Pawel Herczynski, on Monday, remarked on Russia's recent move to restore visa-free travel for Georgians and lift a ban on direct flights between the two countries imposed in 2019, as well as the Georgian government's response over it.
Following "a very open and frank conversation" with deputy prime minister,  and economy minister, Levan Davitashvili, Herczynski told media outlets that all present EU ambassadors in Tbilisi "expressed our concern that this decision is going against our decision to isolate Russia and to put pressure on Russia in order to change Russian behavior when it comes to the brutal, aggressive war that Russia is still continuing in Ukraine."
"I was instructed to convey to the Georgian authorities the EU position that the EU position has been agreed by 27 EU capitals in Brussels and I was accompanied by all present EU ambassadors in Tbilisi.

We have conveyed that we regret the decision of the Georgian government to accept direct flights with Russia. We have conveyed that this decision goes against a unanimous decision by all 27 EU member states not to have any direct flights to-from Russia and not to allow the overflight of a Russian airplane on the territory of the EU member states," the ambassador stated.
Asked about Davitashvili's response, Herczynski said: "The deputy prime minister has conveyed all the arguments that we have already heard about the Georgian government making sure that neither sanctioned airlines nor the airplanes that are manufactured in the West are used. But this is, unfortunately, missing a bigger political point."
"I would love to remind you that the EU decided collectively to ban all flights from Russia, to Russia, all overflights of Russian airplanes, so all kinds of flying over the EU territory and this is a very important move by all 27 EU member states and other partner countries in order to put pressure on Russia and change Russia's behavior towards Ukraine," he noted.
EU Ambassador claimed he was not "aware of any discussions about any sanctions concerning the Georgian government that would place the EU."
"Clearly, this development is not a positive one from our point of view. But it will be for the 27 EU member states to judge how and if it will affect the aspiration of Georgia to join the EU," he asserted.