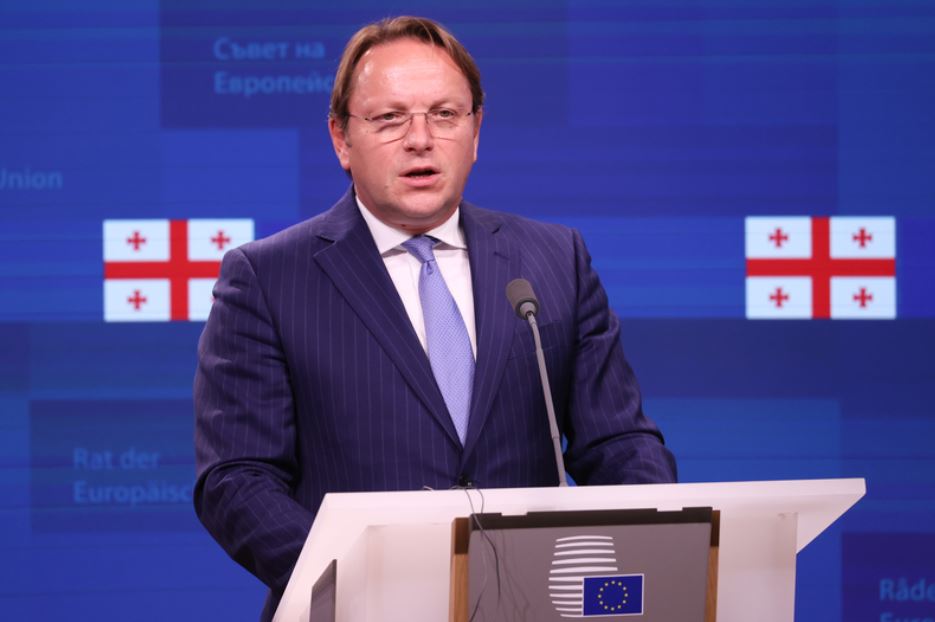 Commissioner Várhelyi recommends Georgia to focus on implementation of 12 priorities
"Georgia is a country with a recognised European perspective. This is a major opportunity, a major development," stated Olivér Várhelyi, the EU Commissioner for Neighbourhood and Enlargement, at the press conference with HR/VP Josep Borrell Fontelles and Georgian PM Irakli Garibashvili following the 7th meeting of the EU-Georgia Association Council.
Commissioner Várhelyi said, "today we need to send a message of encouragement. The moment is now to push ahead with the reforms, not to lose time or energy on internal divisions, but to work together."
He recommended Georgia to focus on the implementation of the 12 priorities, as set out in the Opinion of the Commission.
"Strengthening the rule of law, implementing the necessary justice reforms to ensure a judiciary independent of outside interests, increase the fight against corruption, eliminating the excessive influence of vested interests in economic, political, and public life and strengthening the independence of the media of course are among these key tasks. And I want to assure you that of course we will closely follow and support Georgia in this work," he continued.
Important to
📌address the 12 priorities outlined in the Commission's Opinion
📌 work towards recovery of economy
📌strengthen resilience and connectivity.

Georgia belongs to Europe.
We encourage 🇬🇪 to go ahead w/ the reforms.
👉press conference: https://t.co/5pJpzTSnCs pic.twitter.com/Cc9AzEUuoi

— Oliver Varhelyi (@OliverVarhelyi) September 6, 2022
Commissioner Várhelyi said, the parties took stock of bilateral agenda which has" advanced" since the last Association Council of last year.
He noted that "as disinformation thrives, it remains important to communicate clearly on the advantages of our cooperation." In this context, EU Commissioner highlighted the Eastern Partnership Economic and Investment Plan "which can generate a massive [at least EUR 3.9 billion] of public and private investments only in Georgia. But to fully deliver on this potential, a supportive investment climate with legal certainty is essential."
Alluding to the visa-free regime, EU Commissioner said "we are happy to see the travel is picking up after the COVID crisis. We are also working closely together on some of the challenges we face, especially as regards asylum applications by Georgian citizens in the EU which are often not well founded. But we explored how to further strengthen our cooperation which is already quite effective."
"In terms of trade, we have seen successes. I am very pleased that the Georgian and EU companies will be able to bid for more public procurement calls as a result of our converging standards and our agreements.
We agreed to keep on supporting small and medium-sized enterprises to use the opportunities presented by our cooperation. And we also discussed strengthening connectivity between Georgia and the EU, be it in terms of digital, energy or transport links," he asserted.