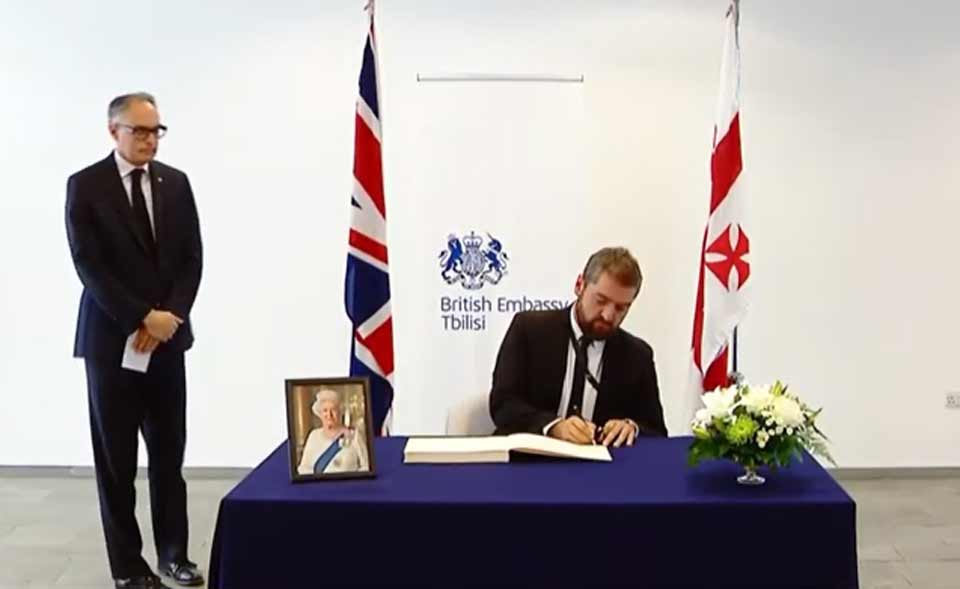 British Embassy in Tbilisi opens condolence book 
Following the death of HM The Queen on 8 September, a book of condolence has opened at the British Embassy in Tbilisi for anyone in Georgia who wishes to pay their respects, from Monday 12 – Friday 16 September between 10:00 – 13:00, the Embassy announced on Monday.
The citizens can also sign the virtual condolence book at https://www.royal.uk/
Georgian Prime Minister Irakli Garibashvili today signed the book and offered his condolences to British Ambassador to Georgia, Mark Clayton.
"On behalf of the Georgian government and myself, I would like to express my heartfelt condolences to the Royal Family and the population of the United Kingdom on the death of the queen. We pay tribute to Her Majesty Elizabeth II's great contribution to the Commonwealth and the world. By leaving the glorious examples that epitomize serving a nation and a country, she created an era and left a legacy. This is service at the highest level of humanism!" the Prime Minister's letter of condolence reads.
We offer our heartfelt condolences to the @RoyalFamily, the @GOVUK & the people of UK. Her Majesty, Queen Elizabeth II was a leader who led the nation throughout the decades, being respected, adored and will be well-remembered by the generations ahead.

— Irakli Garibashvili (@GharibashviliGe) September 8, 2022