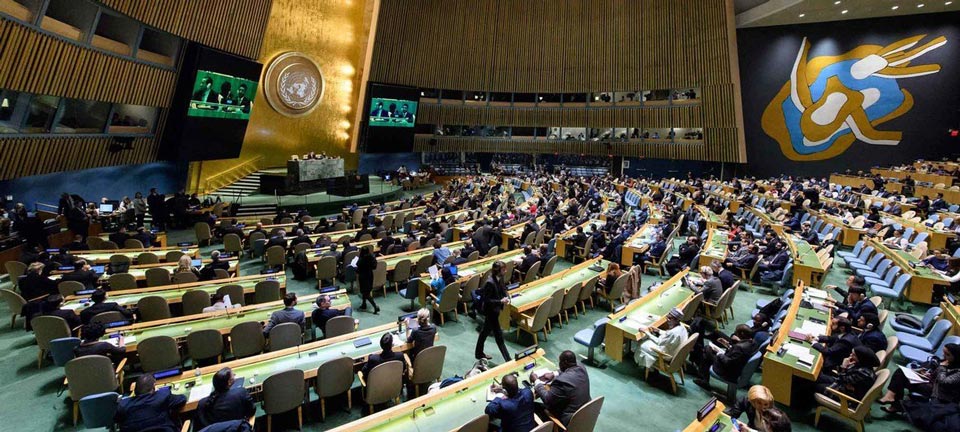 Ambassadors to UN condemn Russia's actions in occupied regions of Georgia
The representatives of various countries made statements in support of Georgia at the UNGA 76th session on June 8 in New York.
"The United Kingdom fully supports Georgia's territorial integrity within the internationally recognized border. It has been 13 years since the Russian Federation's military invasion of Georgia, and the UK remains extremely concerned about the situation. Human rights situation in the two areas of Abkhazia and South Ossetia is of serious concern," UK Representative to the United Nations addressed General Assembly meetings.
UK Representative called on Russia to maintain its obligation under the ceasefire agreement, withdraw to pre-conflict borders, allow full humanitarian access to the areas and reverse its recognition of the Abkhazia and South Ossetia regions.
The representative of Lithuania to the UN, Rytis Paulauskas, speaking on behalf of the Baltic and the Nordic States, said it is deplorable that Russia continues to violate the commitments made under the EU-mediated ceasefire agreement.
"The Baltic and the Nordic States remain deeply concerned about the continued deterioration of the human rights situation in Abkhazia and the Tskhinvali region/South Ossetia, which are under the Russian Federation's occupation. Hundreds of thousands of internally displaced persons remain deprived of their right to a safe, dignified and voluntary return to their places of origin and their property rights. More worrying is that no international human rights monitoring mechanism has been granted unrestricted access to these regions", he said.
"GUAM is an organization for democracy and the economic development of four countries: Georgia, Ukraine, Azerbaijan and Moldova. Its member countries continue to be most affected in Europe by conflict, violating their sovereignty and territorial integrity, constraining their freedoms and democracy, and hampering their development," Ukrainian representative to the UN, Sergiy Kyslytsya, said when addressing the General Assembly.
According to him, after 14 years since its aggression and occupation of Georgian territories, the Russian Federation still refuses to implement the EU‑mediated ceasefire agreement.
"For decades, Russia has persisted in its attempts to undermine the sovereignty and territorial integrity of Georgia, Ukraine and the other GUAM Member States. The aggressor must and will be stopped to bring peace, security and prosperity back to the region," he added.
As part of the UNGA 76th session on June 8 in New York, 95 member states supported a resolution introduced by Georgia and 61 countries on the status of internally displaced persons (IDPs) from the Georgian Abkhazia and Tskhinvali region.