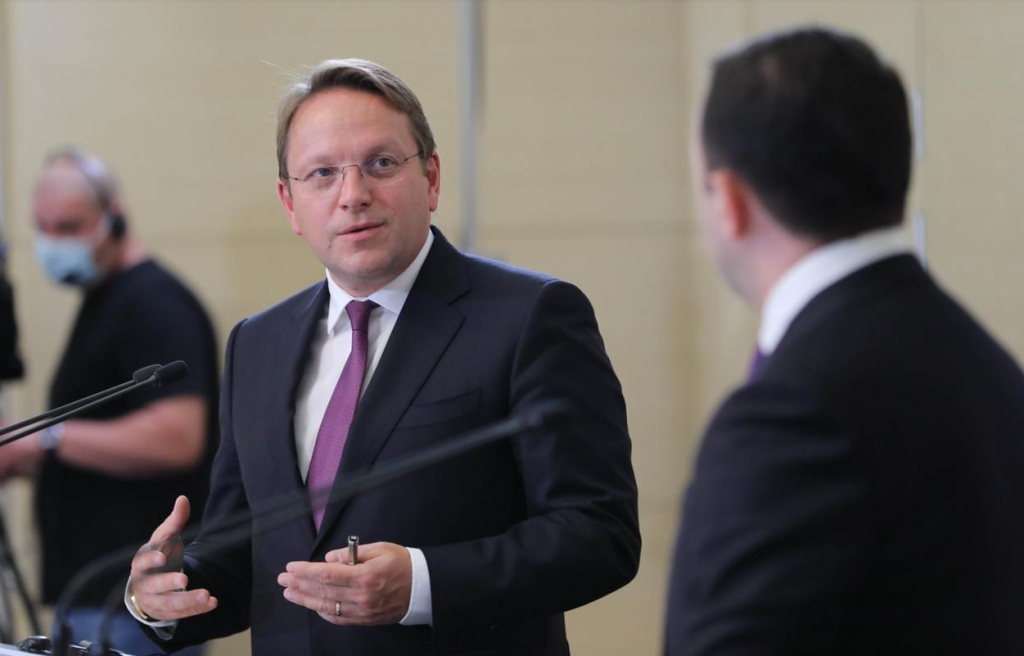 All must enjoy freedom of expression, EU Commissioner says 
EU stands by Georgia, said EU Commissioner for Neighborhood and Enlargement Oliver Varhelyi at the press briefing with Georgian Prime Minister Irakli Garibashvili.
"We have been extremely proud to provide assistance last year. We have helped to preserve over 400 000 jobs. We provided support to 78 000 families in Georgia and we have raised the number of intensive care unit beds to over 1400. But I do hope that it is a thing of the past by now. And we can now the next phase of our cooperation in overcoming the aftermath of the crisis," Oliver Varhelyi stressed.
EU Commissioner noted that the last year has been extremely difficult due to the COVID pandemic. "EU aims to contribute, help the economic, social recovery after the COVID crisis and help Georgia to build a more resilient, stronger economy after the crisis," Oliver Varhelyi noted.
"However, Georgia also had to face political polarization and a political crisis. We have helped to overcome these difficulties and I hope that these problems are a thing of the past and I also hope that we can now start to focus on the recovery from the COVID crisis. On July 2, we presented a very ambitious Economic and Investment Plan for the entire region of the Eastern Partnership countries. We are dedicated to mobilize at least 17 billion Euros for the economic recovery of the region. Out of this we will have 2.3 billion Euros in grants and the rest would be projects put together – investments put together with our financial partners like EIB or EBRD," Oliver Varhelyi underscored.
EU Commissioner believes, "the main bottleneck and the main vulnerability of the economy and the society of Georgia is the lack of connectivity, be it rails and roads, the unused potential of the Black Sea, connectivity to mainland, electricity and internet broadband."
"All these have a major potential to boost the economy of Georgia and to shift it into another dimension. It is for that reason that we have put forward a plan that would address connectivity, would help to create the fine fabric of the economy by supporting SMEs, the local communities, improve access to digital services via broadband internet throughout the country, and also to introduce Georgia to our Green Deal and our digital plans. And maybe Georgia can skip some of the development stages we are through and join us immediately where we are now. This plan dedicated to Georgia should bring at least 3.9 billion Euros of investments. It reaches almost one-third of the peacetime GDP of the country – pre-crisis GDP of the country. This is a meaningful, big package, but it is a huge task to implement it. This is a possibility, but we will have to work together very hard to make it happen," EU Commissioner stated.
Oliver Varhelyi also mentioned the EU-brokered compromise paper, hoping that all political parties would sign it shortly.
"We see that the boycott is over and Members of Parliament are back to where they belong – in the Parliament – where political debates take place. Now we need all political parties to work for the implementation of the agreement. All should sign the agreement. We need everybody. I am also pleased to know that there is important progress on electoral reform. I would also like to see progress on judicial reform and the appointment of Supreme Court judges," he noted.
EU Commissioner echoed the recent attacks during the anti-Tbilisi Pride rally, saying that "there is no place for violence, there is nothing coming out of violence."
"Freedom of expression unhindered by violence or any discrimination needs to be done away with. All must enjoy the right of reunion, freedom of expression. Therefore, we want everybody to respect this. Therefore, we want to see how the procedures are going on. I understand from the Prime Minister that proceedings are ongoing and of course I was also very pleased to be able to go to the Parliament this morning seeing that the European flag is where it belongs," he added.
With Prime Minister @GharibashviliGe: #EU stands by #Georgia and its people, including in challenging times such as fight against COVID-19 crisis and against political polarisation. I hope we can now focus on the future with our Economic & Investment Plan for #EasternPartnership. pic.twitter.com/mzLCmyDg1U

— Oliver Varhelyi (@OliverVarhelyi) July 7, 2021
EU Commissioner for Neighbourhood and Enlargement Oliver Varhelyi arrived today in Tbilisi as a part of his South Caucasus tour.