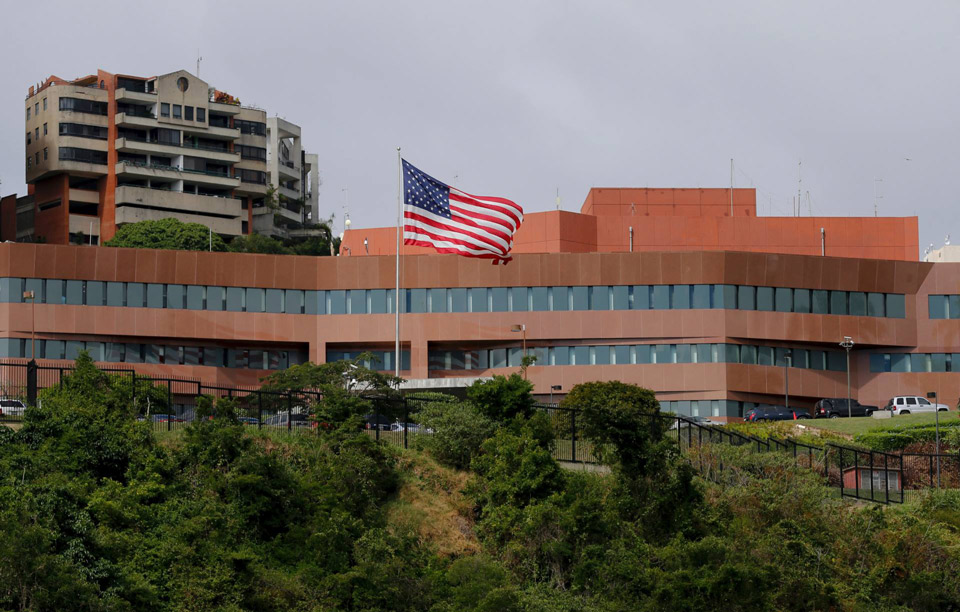 U.S. to withdraw personnel from Venezuela embassy amid turmoil
As growing chaos took hold in Venezuela, a country whose people have had little power, water and communications for days, the United States announced plans to withdraw all remaining personnel from its embassy there this week.
U.S. Secretary of State Mike Pompeo made the announcement Monday night on Twitter. "This decision reflects the deteriorating situation in #Venezuela as well as the conclusion that the presence of U.S. diplomatic staff at the embassy has become a constraint on U.S. policy," he wrote, as reported by NBC News.
Pompeo announced the decision late Monday as Venezuela struggles to restore electricity following four days of blackouts around the country and a deepening political crisis.
The U.S. has led an international effort to oust socialist President Nicolas Maduro and replace him with opposition leader Juan Guaido, who vows to hold new a presidential election.
Guaido is backed by some 50 countries, while Maduro maintains support from countries such as China, Russia and Cuba. Maduro ordered U.S. diplomats to leave in late January but then backed off.
Pompeo says the remaining diplomats in Venezuela will be removed by the end of the week. Earlier Monday, Pompeo blamed Russia and Cuba for causing Venezuela's political crisis by supporting President Nicolas Maduro and said he had urged India not to help Maduro's government by buying Venezuelan oil. His comments came after the U.S. Treasury Department imposed sanctions on Russian bank Evrofinance Mosnarbank for helping Venezuelan state oil firm PDVSA evade U.S. financial restrictions.
"This story is not complete without acknowledging the central role Cuba and Russia have played and continue to play in undermining the democratic dreams of the Venezuelan people and their welfare," Pompeo told reporters.
"Moscow, like Havana, continues to provide political cover to the Maduro regime, while pressuring countries to disregard the democratic legitimacy of the interim president Guaido," he added.
The Trump administration has taken several steps in recent weeks to ratchet up pressure on Maduro and bolster Venezuelan opposition leader Juan Guaido, recognized by the United States and more than 50 other countries as interim president.