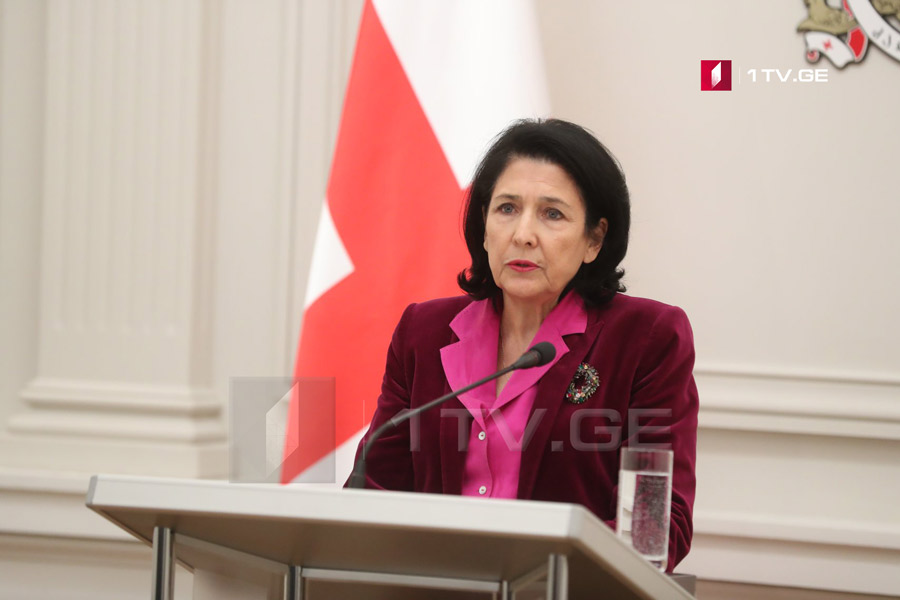 President deems refusal of EU financial assistance as incomprehensible step
Georgian President Salome Zourabichvili called the decision to refuse the EU loan incomprehensible for her and the majority of Georgian people.
At a briefing at the Orbeliani Presidential Palace on Thursday, Zourabichvili said it was unclear why the government decided to prioritize foreign debt reduction amid the current crisis state of Georgian citizens.
President noted that Georgia was the main focus of European partners. Georgia's friends would closely observe the upcoming October 2 local elections as a decisive for Georgia's western path. She underlined that if not for the assistance and solidarity of foreign partners, Georgia would be hardly able to overcome political, economic and pandemic-related difficulties.
"I realize that weakening of European support and ceasing interest to our country and the region could only benefit the internal and external forces, which tried to destabilize the country," President claimed.
President Zourabichvili said she could either understand the logic when the government accentuated on continuing different projects carried out with the financial assistance of international donor organizations.
According to the President, the government's decision might negatively affect the country's future rating and foreign investors' mood. Zourabichvili stressed the economic isolationism is a luxury for rich countries and is completely elusive and insubstantial for such a small country as Georgia.
President Zourabichvili added that Georgia's stability and security would be more dependent on Europe amid the developments in Afghanistan.
"When we promise our citizens more Europe in Georgia and more Georgia in Europe, and when Georgia plans officially apply for the EU membership in 2024, we should retain full trust and support of our partners," Zourabichvili claimed.
GD Chairman Irakli Kobakhidze and Prime Minister Irakli Garibashvili stated on August 31 that the EU macro-financial assistance to Georgia lost its economic significance as the government secured approximately extra GEL 1 billion (USD 320 mln) in the budget.
EU Chargé d'Affaires ad interim, Julien Crampes said the Georgian government failed to meet the conditions for the financial aid, especially in terms of the judicial system.