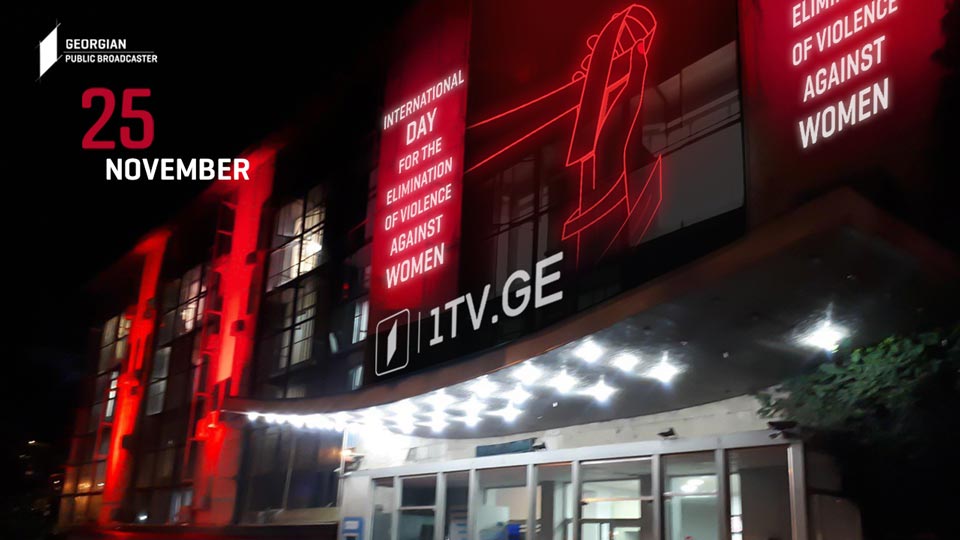 Georgian Public Broadcaster joins campaign against gender-based violence
Georgian Public Broadcaster joins a 16 days campaign against gender-based violence, which will start on November 25 – International Day for the Elimination of Violence against Women and will last until December 10, Human Rights Day.
On November 25, the GPB Building will be lit red specially for the International Day for the Elimination of Violence against Women.
The video clip designed for this campaign will be aired on the GPB First Channel, highlighting diversity and emphasizing the importance of human rights, equality, and an inclusive environment for the society.
In the frames of the campaign, the programs and projects of all the GPB platforms (TV, radio, digital) will cover gender-related issues in a comprehensive way.
It should be noted that the First Channel ensured the involvement of girls in the internship program of the cameraman, the broadcaster promotes the empowerment of women in many areas, in this case, the goal is to encourage women in employment in stereotypical professions.
"We talk a lot about women's empowerment, but there are real steps to be taken in the society in this direction, giving good education to girls and providing equal employment opportunities is a precondition for their empowerment. GPB works in many areas on gender equality issues, be it content creation or organizational decisions," said Tinatin Berdzenishvili – Director-General of the GPB.
In order to ensure gender balance, the GPB in cooperation with the BBC is implementing the project "50:50", which aims to achieve gender balance in the coming years on-air – in radio and television, as well as on online platforms. Project 50:50 ensures fair representation of women and men in the broadcaster's content and achieves the best possible gender balance through data collection, measurement, processing, and further planning. Currently, the project is implemented by 70 organizations in 20 countries. Within the framework of the memorandum signed with the BBC, the project will be implemented on the GPB for several years.
It is noteworthy that the Georgian Public Broadcaster constantly covers gender equality issues and prioritizes active work in this direction. In 2020, the broadcaster put into practice the document "All Things Being Equal" developed by the gender group of the European Broadcasting Union (EBU), which was created with the participation of representatives of 11 countries, led by the chair of the Gender Equality Group, Tinatin Berdzenishvili.