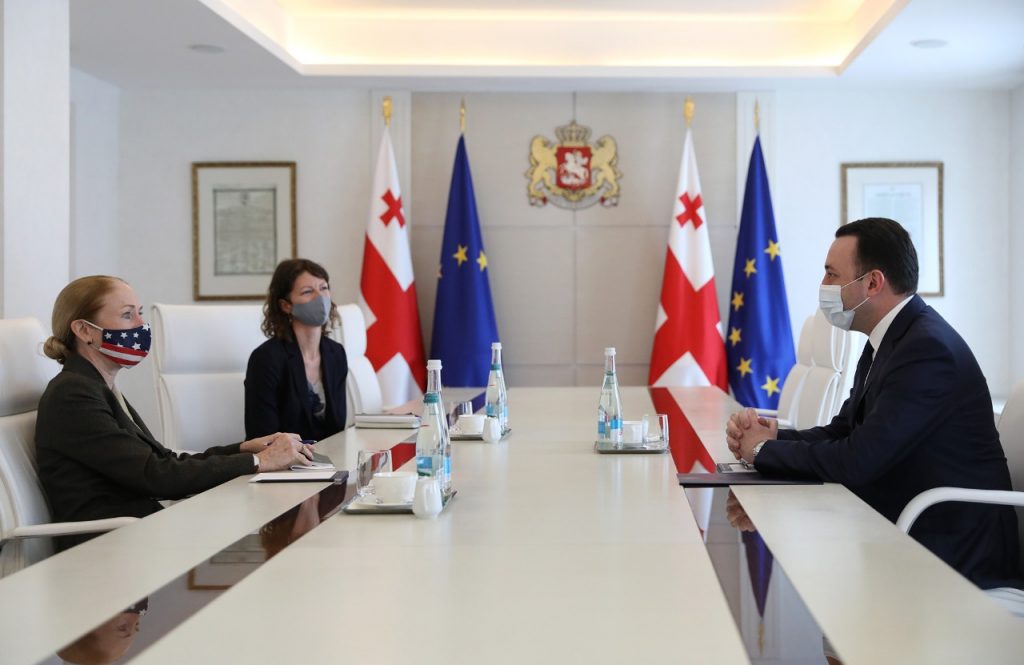 Georgian PM meets US Ambassador to Georgia
Georgian Prime Minister Irakli Garibashvili met with the US Ambassador to Georgia Kelly Degnan.
According to the prime ministerial press service, the talks focused on the main directions of the Georgian-US strategic partnership in various fields, including security cooperation, Covid-19 pandemic-related global challenges and the vaccination process.
PM Garibashvili welcomed the first port call of USCGC Hamilton (WMSL 753), a Legend-class U.S. Coast Guard national security cutter, in Batumi. He noted that this port call underlines the importance of the Black Sea in the Euro-Atlantic security, promotes cooperation in the security sphere and peace and stability in the region.
The meeting also addressed the importance of fast vaccination and joint efforts in combating the pandemic.
"This was an important opportunity to discuss with Prime Minister Garibashvili many of the issues on our agenda. There are a lot of priority issues that we are already working on with the government. One of them being, of course, Covid response and vaccine rollout. We are hoping that Georgians will go out there and get vaccinated. We had very good success in the United States. Over 55% of the adult population in the United States has now been vaccinated. I've been vaccinated, my team has been vaccinated. We see that this is the way to reopen our economies, reopen our schools and get life back to some kind of normal. So, it was very good to talk with the Prime Minister to talk about that.
We also discussed our security agenda. Many different issues that we are working on there. USCGC Hamilton is visiting Batumi. I'm headed there tomorrow to do a ship visit. Again, we are always delighted when US Navy vessels can come and visit Georgia. They love coming to Georgia. And I'm looking forward to welcoming USCGC Hamilton tomorrow. They have been doing some very good training with the Georgian coastguard, very impressed with what the Georgian coastguard is able to do its level of capability, its professionalism. We are delighted to continue to cooperate with Georgia all across the security sector," US Ambassador Kelly Degnan stated.
US Deputy Chief of Mission Rian Harris also attended the meeting.