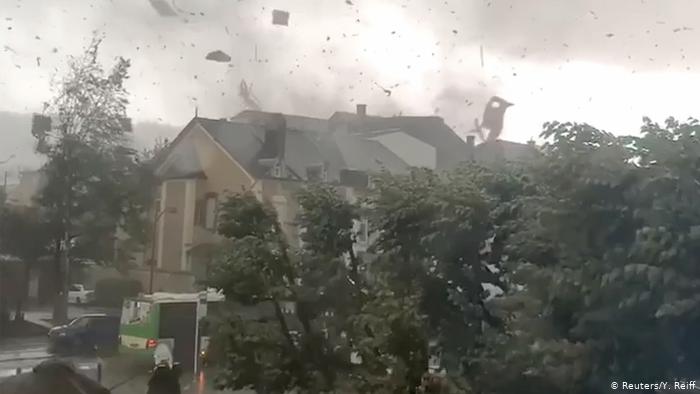 Fourteen injured as tornado ravages south of Luxembourg
A tornado on Friday has ravaged the villages of Pétange and Bascharage, in the south of Luxembourg.
Labour Minister Dan Kersch announced at a press conference earlier today that 14 people were injured with one person in a serious condition after suffering a hear attack during the tornado. Up to 100 homes are now inhabitable, with 60 people having to be put up in hotels.
A power line in Bascharage has also collapsed never several houses meaning people are not allowed to return to their homes there for safety reasons.
A security perimeter has also been established around Cactus in Bascharage and the surrounding businesses will not be accessible until the final securing of the site.
Trains between Pétange and Luxembourg via Dippach have been stopped in both directions due to the collapsed electricity line.
The national weather service had forecast thunderstorms for the weekend but strong winds turned into a tornado that swept across the area.
Authorities organized rooms in hotels and other emergency accommodation for residents, Pétange mayor Pierre Mellina said.
The government late on Friday said it had activated a crisis response team to coordinate operations. A French rescue-clearing unit will support Luxembourg crews.
Nearly 200 volunteer and professional firefighters and some 40 police officers have so far been involved in the relief operations.
The emergency services received around 1,000 calls on Friday evening. A hotline has been set up for victims in need of aid (+352 8002 8080), residents abroad should dial (+352 4977 1 91 47).
Residents had posted videos and images on social media showing debris in the streets and battered homes and cars parked in the road, as reported by Luxembourg Times.