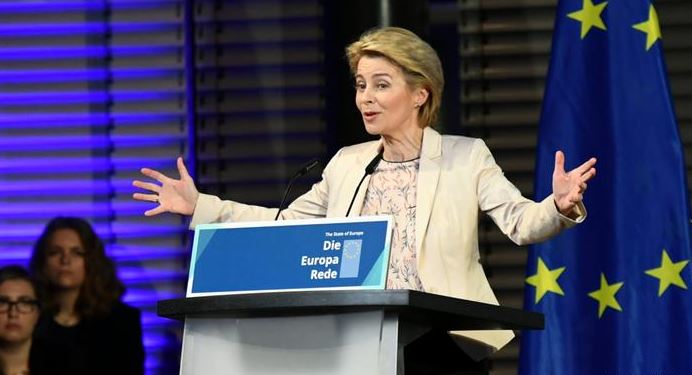 Von der Leyen: 'Europe must learn the language of power'
"Soft power" will no longer be enough if the EU wants to assert itself on the world stage, the incoming EU Commission head said. Ursula von der Leyen added that Brexit has "strengthened" unity within the bloc.
The European Union needs to take a more active role in global politics if it wants to protect its interests, incoming European Commission President Ursula von der Leyen said on Friday. "Europe must also learn the language of power," von der Leyen said during a speech on European policy in Berlin, as reported by Deutsche Welle.
"On the one hand, this means building our own muscles [in areas] where we've long been relying on others — for example in security policies," the former German defense minister said. "That also means applying our existing power in a more targeted way in areas where European interests are concerned."
In the future, she added, the EU's partners should expect stronger positions from the bloc as the former strategy of exercising "soft power" is no longer enough in today's world.
Von der Leyen's remarks in the German capital came on the eve of the 30th anniversary of the fall of the Berlin Wall. They also come a day after Germany's current defense minister, Annegret Kramp-Karrenbauer, called for Germany to play a more active military role in the world.
Von der Leyen also indirectly addressed French President Emmanuel Macron's critique of NATO, saying that despite recent "bumpiness," the military alliance "has proven itself superbly as a protective shield of freedom."