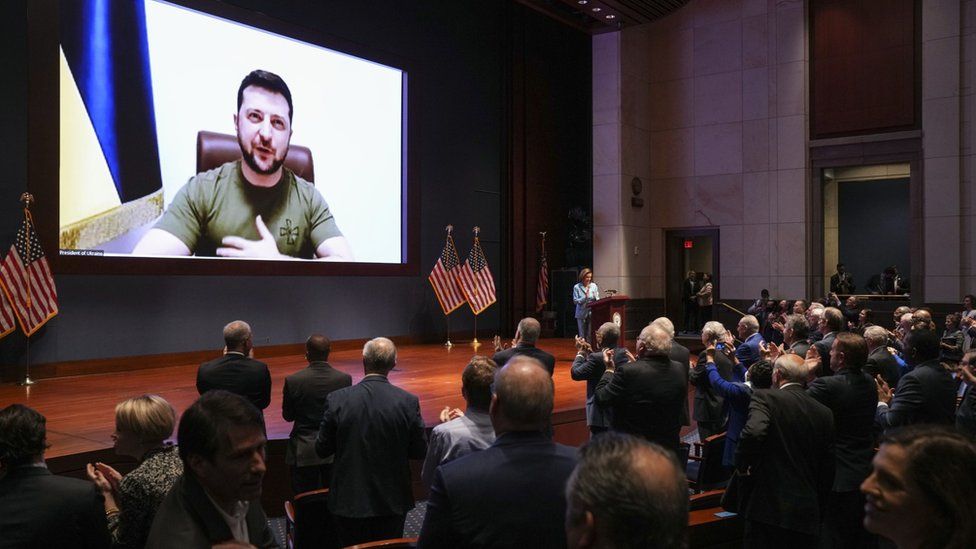 Ukrainian President to Joe Biden: Being the leader of the world means to be the leader of peace
Ukraine's President Volodymyr Zelensky addressed US President Joe Biden in his speech to the US Congress, calling on him to be "the leader of peace."
"I see no sense in life if it cannot stop the deaths. And this is my main issue as the leader of the people, great Ukrainians, and as the leader of my nation. I'm addressing the President Biden: You are the leader of the nation, of your great nation. I wish you to be the leader of the world. Being the leader of the world means to be the leader of peace," Zelensky said in English.
In a powerful closing to his virtual address to the Congress, Ukrainian President said that Ukrainians were defending Ukraine and the values of Europe and the world. He urged the leaders to fight for the "right to die when your time comes."
"Peace in your country doesn't depend anymore only on you and your people. It depends on those next to you, on those who are strong. Strong doesn't mean weak. Strong is brave and ready to fight for the life of his citizens and citizens of the world. For human rights, for freedom, for the right to live decently and to die when your time comes, and not when it's wanted by someone else, by your neighbor," Zelensky said, according to CNN.
Ukraine's President once again called for a no-fly zone over Ukraine in his virtual address.