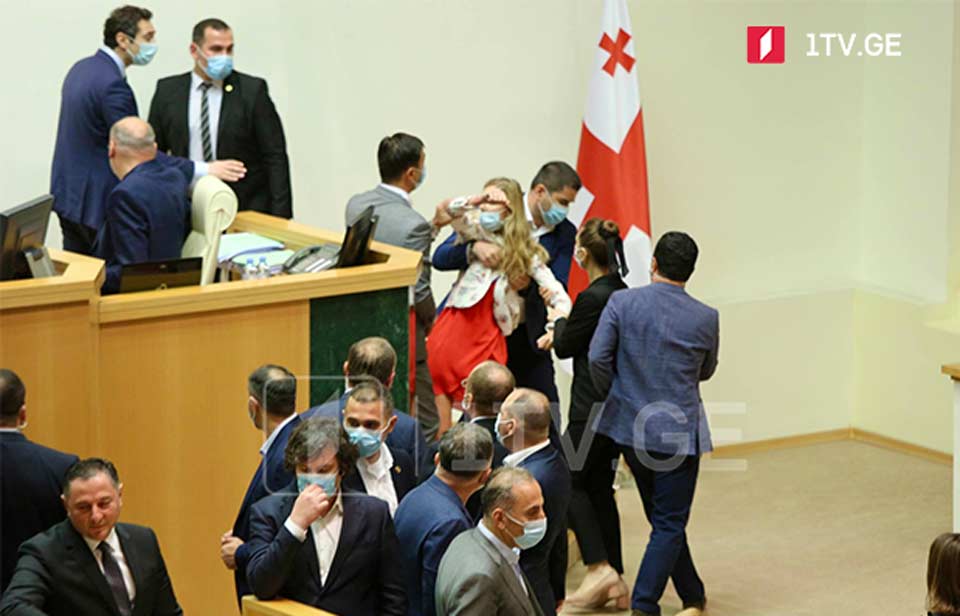 UNM demands mandate termination for two MPs over violence against Tina Bokuchava
The opposition United National Movement (UNM) party applies to the Ethics Council to study violence against its member Tina Bokuchava, committed by MPs Shalva Papuashvili and Levan Mgaloblishvili, said UNM member Zaal Udumashvili, adding that the party demands termination of their parliamentary mandates.
"We all saw how Georgian Dream (GD) members dragged Tina Bokuchava to hinder her reach Parliament Speaker," Udumashvili noted.
Shocking footage from @Geoparliament. Opposition MPs unfurled protest posters (demanding resignation of @GharibashviliGe) before MIA minister Gomelauri's speech. @GeorgianDream41 authorities physically dragged opposition MPs (particularly women) from Gomelauri's tribune. #Shame pic.twitter.com/wIUtSBr0Qs

— Shame Movement (@Shamemovement) July 18, 2021
UNM member claims Interior Minister Vakhtang Gomelauri had neither moral nor legal right to stand at the tribune.
Udumashvili accuses Gomelauri of the July 5-6 violence when "Tbilisi turned out to be ruled by terrorists, who persecuted journalists and our fellow citizens."
Earlier today, the Georgian Interior Minister's parliamentary address on July 5-6 events was postponed due to the opposition protest.
The tension mounted as the opposition members took the podium when Minister was offering condolences to the late cameraman's family. They held the pictures of the late cameraman and PM to demand his resignation.
On top of that, media representatives hung a banner from the balcony of the plenary session hall with the caption "Take Political Responsibility."
Fifty-three journalists were injured during July 5-6 violence, one of whom passed away on July 11. TV Pirveli cameraman Lekso Lashkarava, 36, died six days later after being severely beaten by a far-right mob during the anti-Tbilisi Pride rally on July 5.
Civil activists and media representatives demand the resignation of the Georgian Prime Minister and Interior Minister over the violence against media and Lashkarava's death.