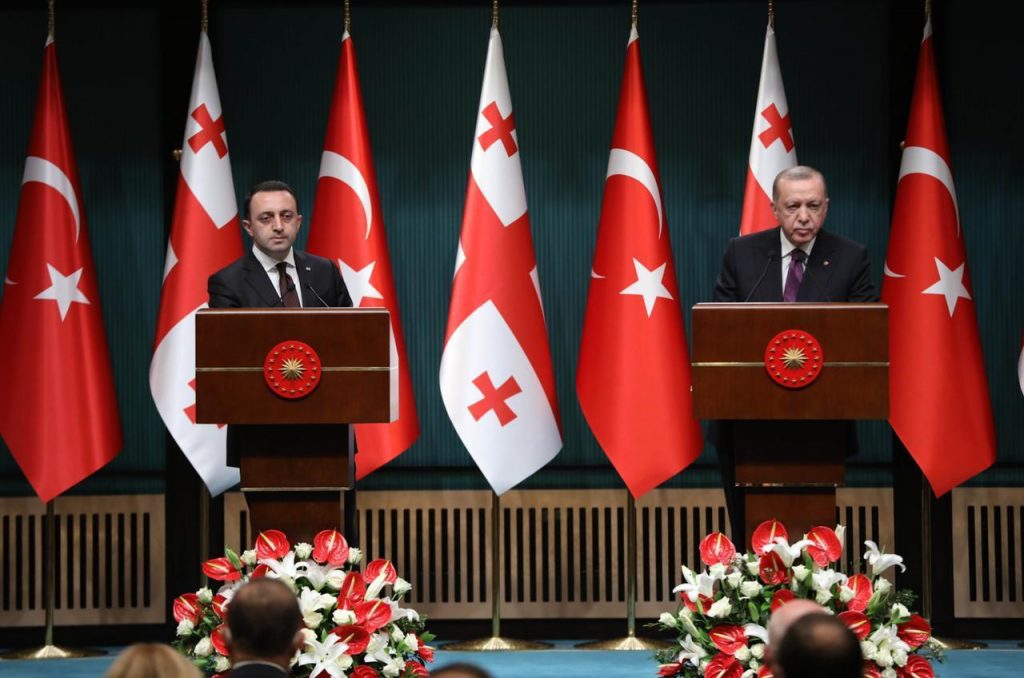 Turkey regards Georgia as a key to regional cooperation
"Turkey regards Georgia as a key to regional cooperation", President of Turkey, Recep Tayyip Erdoğan, said at a joint press conference with Georgian Prime Minister Irakli Garibashvili in Ankara late Tuesday.
"We exchanged our views on regional matters. Turkey regards Georgia as a key to regional cooperation. We strongly believe to have all the means to carry out various efforts to strengthen and increase the significance and peace in our region. Within the scope of this endeavor, tripartite cooperation is very important with the engagement of Azerbaijan. Turkey supports any tripartite cooperation – be that Georgia-Azerbaijan-Armenia or Georgia-Azerbaijan-Turkey. We also made a decision to hold a high-level meeting of the strategic council any time soon this year and we instructed the Foreign Affairs Ministries of Georgia and Turkey to work on the timeframe. We continue to make bold steps forward by using the available mechanisms. With this mindset, I express hopes and remain confident that our views and meeting will facilitate and develop the current relations between our nations," President Erdoğan said.
Turkish President reiterated support to  Georgia's territorial integrity. He noted that Turkey underscores its support for Georgia's territorial integrity and sovereignty at all levels and on all platforms.
"I would like to take the opportunity to reiterate our desire to resolve the conflicts in Abkhazia and South Ossetia by peaceful means," Recep Tayyip Erdoğan said.
President Erdoğan said Turkey remains Georgia's largest trade partner for over a decade.
"Turkey has been a Number One trade partner for Georgia in the past 14 years. Irrespective of the fact that 2020 has seen a slight decline in trade volumes, we still aim to increase the trade turnover to 3 billion USD in the nearest future. Negotiations and consultations are also in progress towards extending a Free Trade Agreement (FTA)" President Erdoğan stated.
He also added that Turkish companies have invested over USD 200 million in Georgia especially in the field of energy.