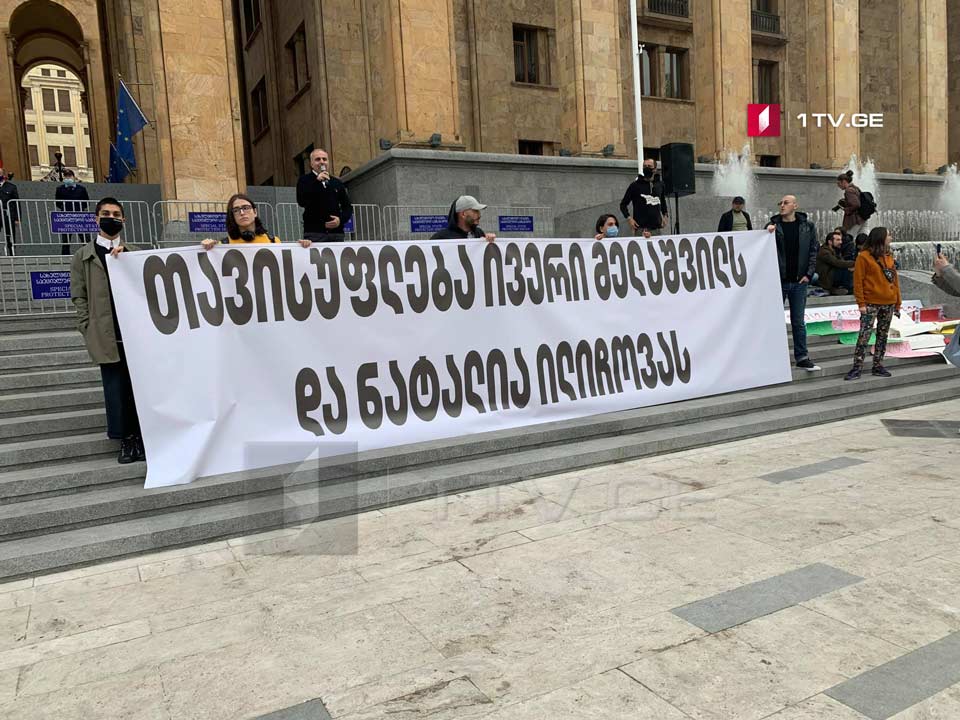 Protest in support of two persons detained into Davit Gareji case held at parliament
"Solidarity to Iveri Melashvili and Natalia Ilychova" – with this slogan a protest was held at parliament in support of the two persons detained into the case of Davit Gareji monastery complex. The protest was organized by "It is a Shame" movement. Leaders of oppositional parties joined the protest.
Elene Khoshtaria, one of the leaders of European Georgia Party said that Iveri Melashvili and Natalia Ilychova were arrested on charge, which was grounded on falsehood. She said that Georgian Dream infringed their dignity and called them traitors for political its own interests.
"This is clearly a political process to instill fear in people by lying, as if something is lost, as if we have a problem with Azerbaijan. This is a lie. On the contrary, it is through this process that we create a problem with both Azerbaijan and David Gareji," Khoshtaria said.
Iveri Melashvili and Natalia Ilychova, two persons accused of acting against the territories of Georgia detained into the case of Davit Gareji monastery complex, were imposed imprisonment on October 8.
The Prosecutor's Office arrested Iveli Melashvili, Head of the Border Relations Service of Department of Neighboring Countries and Natalia Ilychova, Chief Inspector of the Land Border Defense Department of the Ministry of Internal Affairs (MIA) of Georgia on October 7 as part of the ongoing investigation into the case of David Gareji.
The investigation was launched on August 17, 2020, based on written information received from the Ministry of Defense of Georgia regarding the activities of the Government Commission on Delimitation and Demarcation of State Borders of Georgia.