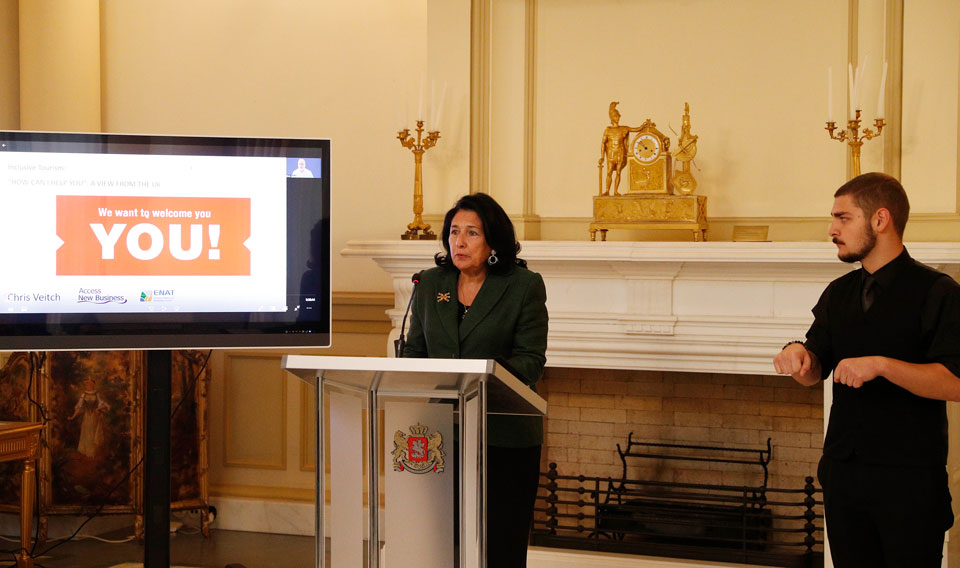 President believes all stakeholders to engage in inclusive policy development
Georgian President Salome Zourabichvili launched an international conference on Inclusive Tourism for Social Involvement and Economic Development at the Orbeliani Palace.
The president stated that the tourism industry should "provide positive travel experiences to those with restricted physical capabilities, and all stakeholders should be included in the development of inclusive policies."
According to Salome Zourabichvili, Georgia is a unique tourist destination due to its rich historical and cultural heritage, beautiful landscapes, cuisine, and mountainous and archaeological itineraries. The growth of inclusive tourism potential and prospects requires the improvement of tourist infrastructure and services.
"According to a 2020 study undertaken by the European Commission's Open Doors initiative, the global economic effect of travel by adults with disabilities is USD 58.7 billion. If we only consider the market, it is enormous," she stated.
Salome Zourabichvili believes Georgia has to improve tourist regulations and implement international standards. She urged municipalities to make tourist spots more accessible to those with impairments.
The conference was organized in a hybrid format with the assistance of Tbilisi City Hall and the Presidential Administration. Representatives from non-governmental groups, international benefactors, experts, and members of the Diplomatic Corps attended the meeting.