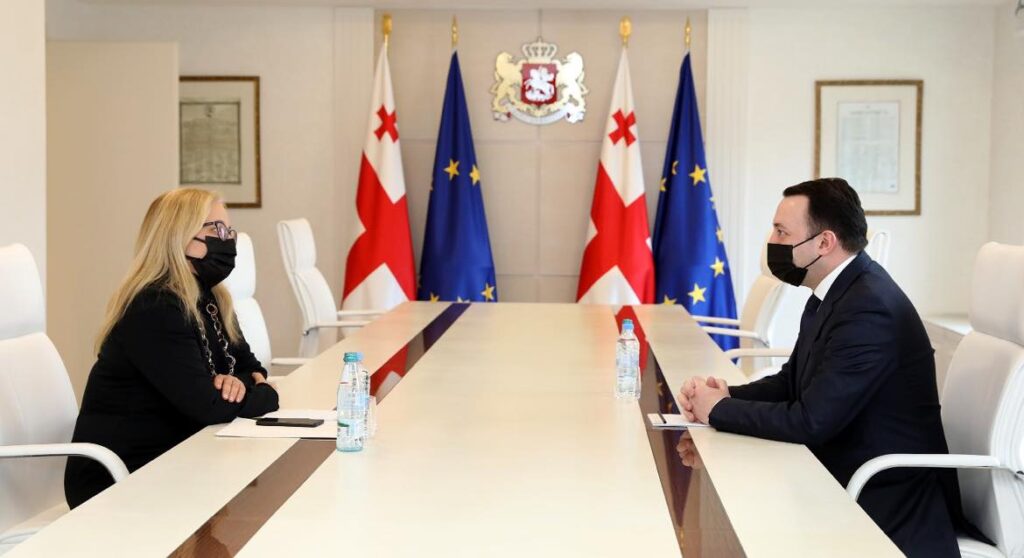 PM meets Turkish Ambassador
Georgian Prime Minister, Irakli Garibashvili met Turkish Ambassador to Georgia, Fatma Ceren Yazgan, on Thursday.
Discussions focused on the strategic partnership between the two countries and the positive trend of bilateral relations.
One of the topics discussed by the dignitaries was the opening of the Turkish sales market and import of high-quality medication with Good Manufacturing Practice (GMP) to Georgia, which will significantly and quickly drop prices on the pharmaceutical products in Georgia.
It was highlighted that current regional projects between Georgia and Turkey serve as a vivid example of effective strategic cooperation, solid development and reliable partnership, which thereby leads to greater economic freedom, security and sustainability.
Prime Minister of Georgia noted that effective regional cooperation with neighbouring countries is in fact a road leading to security, stability and sustainable development.
Readiness was expressed towards further deepening cooperation, including political and economic directions.
Attention at the meeting was paid to the upcoming session of the High-Level Strategic Cooperation Council. Future steps to be made towards concluding a Free Trade Agreement (FTA) by and between Georgia and Turkey were also discussed at the meeting.
It was noted that joint efforts have acquired tremendous importance in addressing the challenges borne by the pandemic and hopes were expressed that close cooperation between Georgia and Turkey will remain high in the agenda in the fight against the novel coronavirus.
Irakli Garibashvili expressed his gratitude to the Turkish side for the solid support of the territorial integrity and sovereignty of Georgia. The Head of Government of Georgia highlighted the significant contribution of the Madam Ambassador in developing the bilateral relations between the two countries.