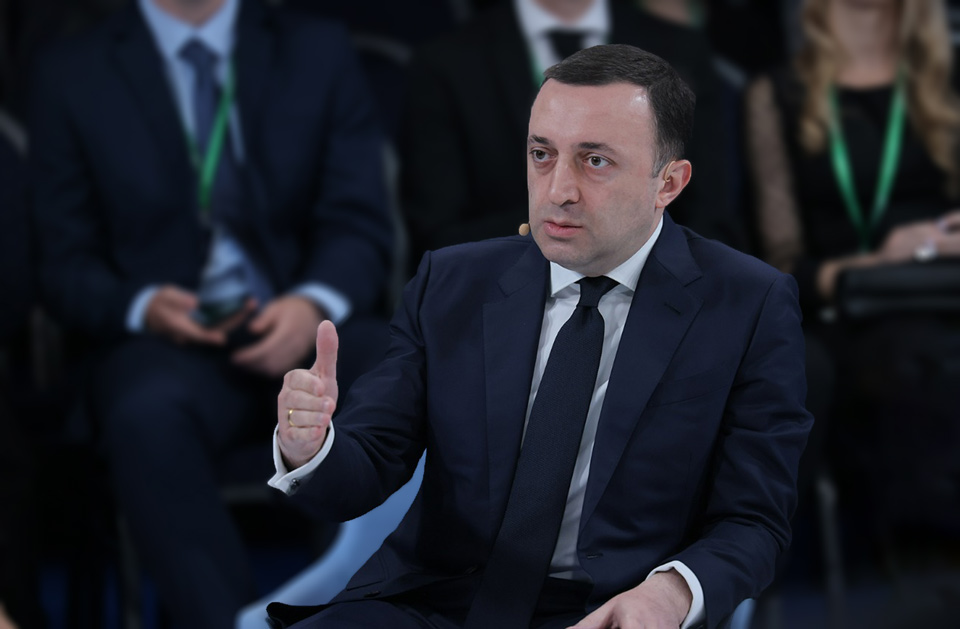 PM: If Georgia does not get candidate status at the year-end, this will be a huge mistake
Georgia leads among the Associated Trio countries, and if Georgia does not get candidate status at the year-end, this will be a huge mistake, said Georgian Prime Minister Irakli Garibashvili at the Global Security Forum (GLOBSEC) in Bratislava, Slovakia.
The PM was asked about the so-called Foreign Agents bill at the forum. Irakli Garibashvili said that the bill had already been withdrawn, the issue was solved and the topic – closed.
"What's the point of talking about something which has already been solved? This law was not adopted. We closed the chapter, so what I would suggest is that we'd rather focus on more serious stuff. This was an initiative. I think many other countries also expressed their will, including the European Parliament considering adopting a similar law, but I don't want to go into details, I do not want to speculate on that, but there was this initiative, and we withdrew it. And this topic is over. It's closed," he said.
The PM went on to say that Georgia worked on the fulfillment of EC's 12-point priorities to move forward on the European integration path.
"I want to talk about something more serious. Which is the next step on our European path. So, as we mentioned, we are working on the implementation of these 12 priorities. As you know, Ukraine and Moldova were given candidate status and Georgia was not. And as we explained many times, this was a bonus for Moldova and Ukraine, and we're very happy for them," he said.
According to the PM, Georgia deserves candidate status.
"Why Georgia was denied? Ask this our European friends. I think this was unfair. This was, really unjustified. Because, what kind of message, for example, are we sending to Russia? That we are kind of abandoning a country, which is two or three times ahead of Moldova and Ukraine if we're talking about a merit-based approach if you're talking about reforms, performance, and this and that. Georgia was and still is two or three times they had to have both countries, Associated Trio countries. Right? So you'd rather ask the same question to our European friends. Why they didn't give the state of Georgia? We heard no explanation, no arguments, no serious arguments, I would say.
Moldova and Ukraine were also given these priorities, but they were given the status in advance. That's the difference. That's why we didn't understand why. The only explanation we heard was that Ukraine is at war. We were also at in war 2008 and 20% of our territory is occupied by Russia. So what's the point? Moldova is in a difficult situation. So there is no rationale, I would say. If Georgia does not get the status at the end of this year. This will be a huge mistake, " he said.