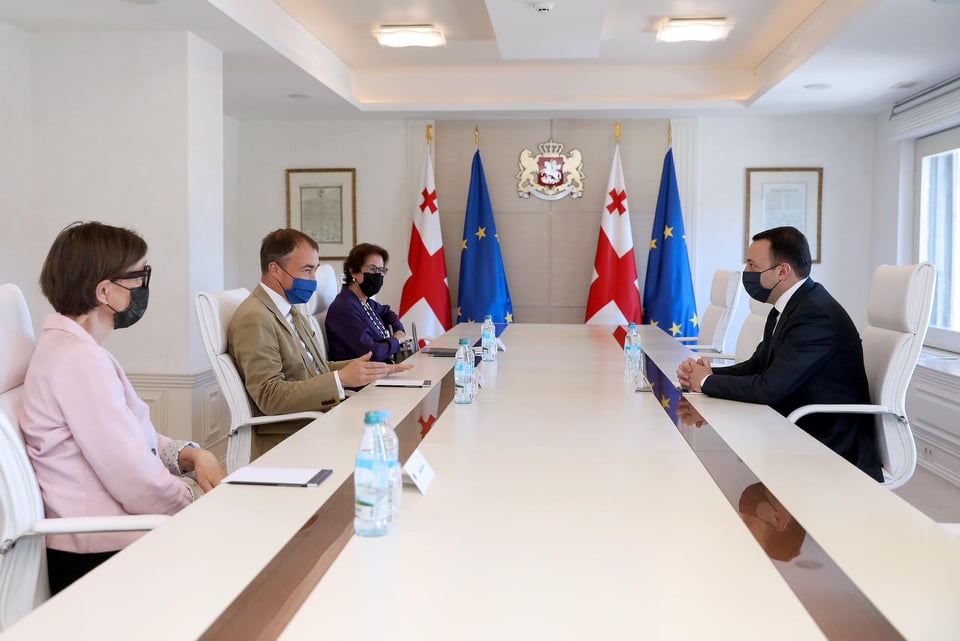 PM and Co-Chairs of Geneva Talks discuss situation in occupied territories
Georgian Prime Minister Irakli Garibashvili met with Co-Chairs of the Geneva International Discussions: EU Special Representative for the South Caucasus and the Crisis in GeorgiaToivo Klaar, Special Representative of the OSCE Chairperson-in-Office for the South Caucasus Annika Soder, and UN Representative in the Geneva International Discussions Cihan Sultanoglu. Press Service of the Government Administration reported on Monday.
The parties discussed the security environment and current challenges in Eastern Europe.
The meeting focused on the deteriorating security and humanitarian situation in Abkhazia and Tskhinvali Region, as well as in the villages along the occupation line, amid the COVID-19 pandemic. Special attention was paid to the cases of kidnapping and illegal detention of Georgian citizens by the occupation forces, and the dire consequences of movement restrictions imposed on the local populations along the occupation line. The Prime Minister requested from the Co-Chairs of the Geneva Talks to take effective steps and maximally engage for the immediate and unconditional release of Zaza Gakheladze and all illegally detained Georgian citizens.
According to the Prime Minister, it is important to achieve progress in the Geneva International Discussions on the key issues of the agenda, such as the establishment of international security mechanisms on the ground, non-use of force, and the return of IDPs and refugees to their homes. According to Irakli Garibashvili, the Government of Georgia continues to demand that the Russian Federation take concrete steps toward implementing the August 12, 2008 EU-mediated Ceasefire Agreement, with a principled position on the part of the Co-Chair Organizations of the Geneva International Discussions being of crucial importance.
The Prime Minister also underlined the need to resume Incident Prevention and Response Mechanism in Gali. The meeting pointed out the historic decision of European Court of Human Rights, one recognizing the illegal occupation of and effective control over Georgia's regions of Abkhazia and Tskhinvali by Russia.
Irakli Garibashvili reaffirmed the Georgian Government's commitment to peaceful conflict resolution. The Government of Georgia is taking active steps toward employing inclusive engagement to develop a unified approach and comprehensive state strategy for de-occupation and peaceful conflict resolution, and relevant work is underway, the Prime Minister added. In conclusion, Irakli Garibashvili thanked the Co-Chairs for their active efforts and contribution to the peaceful resolution of the conflict.