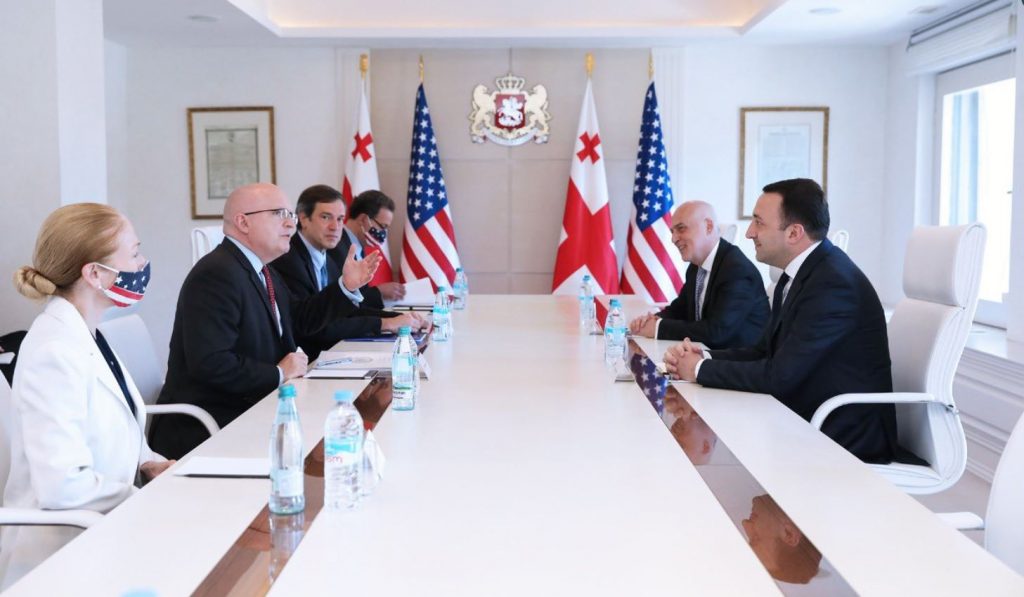 Philip Reeker praises progress made by Georgia towards NATO Integration
Irakli Garibashvili, Prime Minister of Georgia met Philip T. Reeker, Acting Assistant US Secretary of State for European and Eurasian Affairs today. Press Service of the Government Administration reported.
According to Press Service, the discussion unfolded around all major topics of the bilateral agenda. The focus was made on cooperation in areas of defense and security. Economic cooperation, including the implementation of significant infrastructure projects, was discussed as well.
Post-COVID support of the United States of America was discussed at the meeting. It was underlined that Georgia will be given a priority in the Vaccine Sharing Plan as designed and developed by the White House, which is yet another strong evidence of an excellent partnership that exists between the two countries. The Prime Minister of Georgia expressed his gratitude to the Acting Assistant Secretary of State for the referred decision and support demonstrated during the pandemic.
The situation in the region and the new geopolitical environment was discussed at the meeting. The focus was made on the role to be played by Georgia in the context of regional security. It was noted that the USA gives total support to Georgia towards this end. The strategic partnership between the countries is deemed to be at its highest level in the opinion of the Georgian side, as manifested in the increased frequency of high-level visits made by US officials to the country.
The process of European and Euro-Atlantic integration was reviewed. Acting Assistant Secretary of State praised the progress made by Georgia towards integration with the North Atlantic Treaty Organization (NATO). It was underlined at the meeting that US authorities will be very clear in statements reflecting the referred progress at the upcoming NATO Summit. It was noted that this fact will be reflected in the declaration relating to the Open Gate Policy of the Alliance.
The significance of always keeping Georgia at leading positions in the agenda of US relations with Russia was underlined. It was thereby noted that focus and support towards sovereignty and territorial integrity of Georgia be inter alia made at a meeting planned for Presidents of the USA and Russia in the near future.
Past and pending democracy reforms of the country were talked about. Agreement date April 19, 2021, was praised. The Prime Minister of Georgia once again confirmed the consistent position of the national authorities towards implementing it. Readiness towards this end was underlined, along with a commitment to continue with all the democratic reforms that will strengthen the sustainability of the country.
It was noted at the meeting that the recovery of a multi-party parliament is a welcoming achievement. Particular attention was made on the consolidation of the entire political spectrum by taking into consideration the current challenges and a need to implement the Agreement concluded on April 19, 2021, by all sides participating in the endeavour.