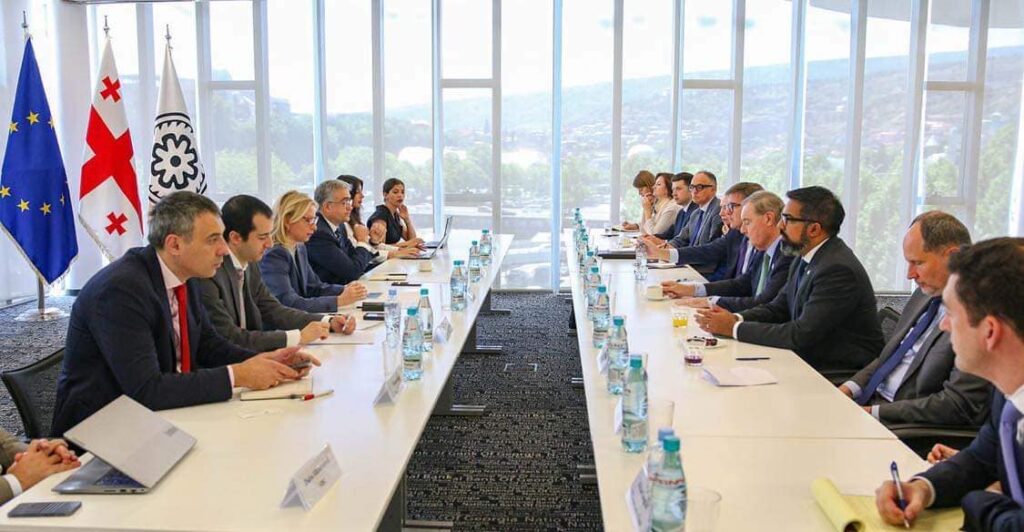 NBG management meets high-profile delegates in sanction coordination issues
Natia Turnava, Acting President and First Vice Speaker of the National Bank of Georgia (NBG), and Vice Presidents Archil Mestvirishvili, Papuna Lezhava and Nikoloz Gagua, met high-profile delegates in sanction coordination issues – EU Sanctions Envoy David O'Sullivan, Head of the US State Department's Office of Sanctions Coordination Jim O'Brien and Kumar Iyer, Director General of Economics, Science, and Technology at the UK's Foreign, Commonwealth & Development Office (FCDO).
At the meeting, the NBG top managers spoke about consistent steps which the bank is taking to comply with the international sanctions imposed on Russia. They stressed the US Department of State and international organizations positively evaluate the measures.
Natia Turnava underscored that the NBG ensures compliance with all regulations and restrictions in the financial sector of Georgia, which were imposed on Russia from the very first days of its invasion of Ukraine.
"It is also worth noting that the monitoring of the implementation of sanctions is carried out from the second day of the start of hostilities, the results of which we presented to the international partners in detail today," she said.