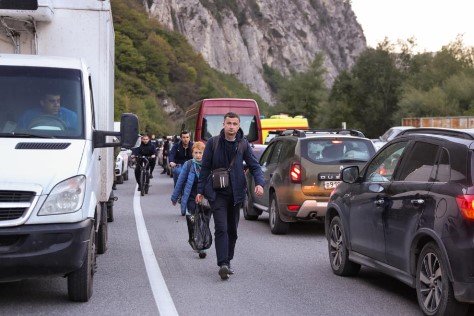 MIA releases statistics on Russian nationals crossing state border at checkpoints
The Larsi customs checkpoint is still operational in special operation mode. Traffic jams stretch for kilometers on the Russian side of the Georgian-Russian border. Some Russian citizens are approaching the crossing on foot, while others are being denied entry. Russian media reports that the Russian side is establishing a military recruiting center on the checkpoint it controls.
In the midst of the rising influx, the Georgian Ministry of Internal Affairs released latest information on Russian nationals crossing the border.
The following data shows the arrival and departure of Russian nationals at all border crossing sites over the last 10 days:
September 17: 6986 (entry) – 7406 (exit);
September 18: 6606 (entry) – 6743 (exit);
September 19: 6411 (entry)- 6782 (exit);
September 20: 5603 (entry) – 6199 (exit);
September 21: 6402 (entry) – 6011(exit);
September 22: 6150 (entry) – 6050 (exit);
September 23: 9307 (entry) – 6214 (exit);
September 24: 9330 (entry) – 6249 (exit);
September 25: 11 143 (entry) – 5519 (exit);
September 26: 10 804 (entry) – 4947 (exit).
MIA says that it conducts border control processes with careful attention, in complete conformity with Georgian legislation, and inspects each foreign visitor in accordance with globally acknowledged best practices.
"The border guard determines whether to permit or deny admission to a foreign citizen based on multiple of factors and conditions. For example, the border guard evaluates the supplied documents' conformity with the objective of the trip, the adequate quantity of funds during the stay in Georgia and upon departure from the country, dates of stay in the country during the last visit, and so on. As a result, if the aforementioned norm is broken, law enforcement personnel explain to foreigner the reasons for the rejection as well as the requirements for appealing the decision on the spot," the statement reads.