Jens Stoltenberg Invites President Margvelashvili to NATO 2018 Brussels Summit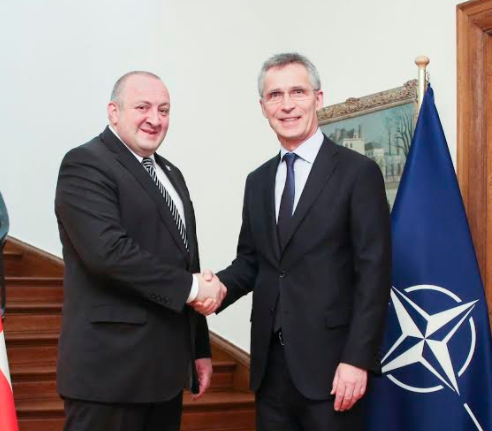 The President of Georgia, Giorgi Margvelashvili has held a meeting with the Secretary General of the North Atlantic Treaty Organisation, Jens Stoltenberg to discuss Georgia's prospective integration to the Alliance, dynamics of the current cooperation and future plans.
At the meeting, Mr. Stoltenberg has invited President Margvelashvili to NATO 2018 Brussels Summit. Georgia will attend the Summit as an aspirant country and a valuable partner of the alliance. The parties have discussed preparation for the Summit.
President Margvelashvili has thanked Mr. Stoltenberg for the firm support for Georgia's Euro-Atlantic aspirations and noted that Georgia moves forward on the path of NATO integration while political and practical cooperation develops fruitfully.
Conversation also touched upon the prospects of enhancing cooperation to ensure the Black Sea security. Speaking about Georgia's occupied territories, Mr. Stoltenberg has reaffirmed the Alliance's strong support for Georgia's sovereignty and territorial integrity. Special attention was drawn to the situation in the occupied territories of Georgia and Russia's aggressive policy. Both parties have shown concern over the tragic death of Archil Tatunashvili.
Mr. Stoltenberg has thanked Georgia for the country's significant contribution to international security and underlined Georgia's active involvement in various international operations, including NATO Resolute Support mission in Afghanistan.
President Margvelashvili has promised Mr. Stoltenberg that Georgia, as a NATO aspirant country, will continue contributing to reinforcement of common Euro-Atlantic security.