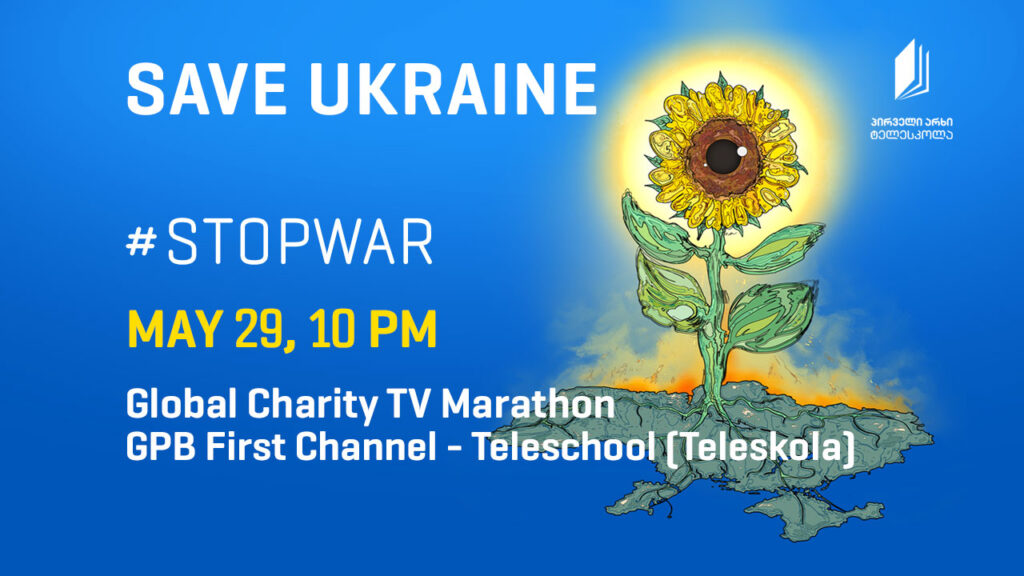 GPB Teleschool to air 2nd int'l charity telethon to support Ukraine on May 29
GPB First Channel – Teleskola (Teleschool) will air the second International Charity Concert-Marathon aimed at supporting Ukraine and named Save Ukraine – #StopWar on May 29, at 10 pm Tbilisi time.
Livestream will also be available on Internet platforms around the world, both on YouTube channels and social media.
The second charity telethon aims to draw the attention of the world community to the dramatic events unfolding in Ukraine and to raise funds to purchase devices for the hospitals in 12 regions closest to the war zone. For two medical facilities in each of the following regions – Kharkiv, Dnipropetrovsk, Zaporizhzhya, Poltava, Odesa, Kyiv Oblast and the city of Kyiv; and one facility in each of the following regions – Chernihiv, Sumy, Mykolaiv, Cherkasy, Kirovohrad Oblast.
The fundraising will be conducted through the United24 global initiative.
Musicians will perform live from Kyiv and Berlin, as the show will be aired by the public broadcasters of more than 20 countries, including the Georgian Public Broadcaster (GPB). Among the participants of the event will be Okean Elzy, Tina Karol, The Hardkiss, MONATIK, Beissoul & Einius, Antytila, ONUKA, Alyona Alyona, and many others. A special guest of the event is the winner of the Eurovision 2022 band Kalush Orchestra.
Viewers can donate as displayed on the screen or via the online platform: u24.gov.ua
For the record, GPB First Channel aired the first telethon on March 27. GPB First Channel, together with the Red Cross, held a charity marathon "We for Ukraine" on March 1 in support of the Ukrainian people and as a sign of solidarity with the Ukrainian Public Broadcaster.
Kicked off in Poland, the charity marathon was initiated by the European Broadcasting Union (EBU).