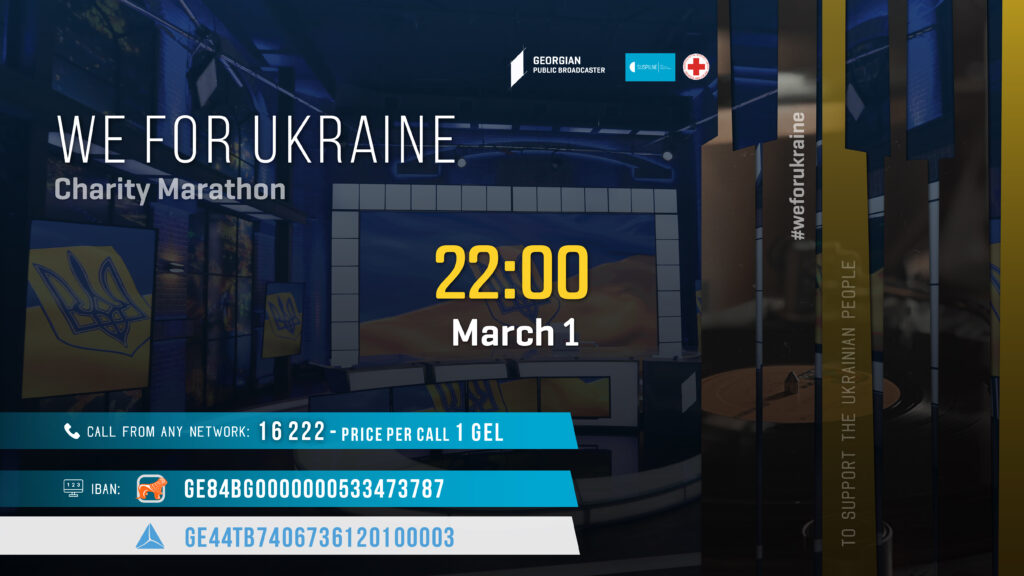 GPB First Channel - "We for Ukraine"
GPB First Channel, together with the Red Cross, will hold a charity marathon 'We for Ukraine' to express support to the Ukrainian people and solidarity with Ukrainian Public Broadcaster.
GPB First Channel will provide a live broadcast of the event on March 1 at 10 pm. Everyone can donate via SMS or bank transfer.
Account number:
GE84BG0000000533473787 
GE44TB7406736120100003
Or make phone call from any network operators: 16 222
The cost of each call is 1 GEL.
The European Broadcasting Union (EBU) members initiated the said event. The charity marathon has already held in Poland. GPB First Channel's charity marathon will be held on Tuesday at 10 pm.
"We work closely with the Ukrainian Public Broadcaster. Georgian Public Broadcaster will organize a charity marathon in solidarity with Ukraine which can bring a real outcome to be so important in this hard time," GPB Director General Tinatin Berdzenishvili stated.
Georgian Red Cross Society President, Natia Loladze, noted that the raised money would be donated to the Ukrainian Red Cross.
"Donate for Ukrainian people! Today, as never before, our friends in Ukraine need support. The money raised during the concert will be donated to the Ukrainian Red Cross," she stressed.
Famous Georgian performers will take part in the charity event. They will also perform the popular compositions from GPB's musical projects.