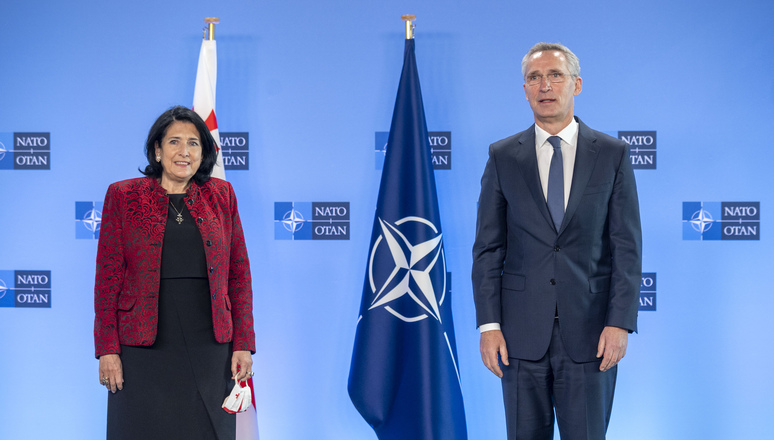 Georgian President: Georgia values constant NATO support to its territorial integrity
Georgia values the constant support of partners and NATO Secretary-General to its territorial integrity, sovereignty, and strategic orientation, Georgian President Salome Zourabichvili said at NATO Headquarters in Brussels.
Georgian President said Georgia values the continued NATO exercises, military cooperation, and NATO fleet presence in the Black Sea region.
"We value the importance of solidarity in taking our share of the burden of collective security through our participation in NATO-led operations. Thanks to this cooperation, Georgia has continued to enhance its defense capabilities, increase standards and interoperability, and develop the practical tools to prepare for membership. Georgia values the importance of continued NATO exercises on its territory despite the constraints of the pandemic, we saw in 2020. We value the increased presence in the Black Sea and port calls. We are more ready than ever to increase our efforts and performances, and we are grateful for the trust in our country's aspirations.
The new refreshed SNGP is a demonstration and a valued tool raising our cooperation level and tailored to all these news security challenges. But we need more! We trust the recommendations of NATO. 2030 New Era Report will be taken up. Aspiring Georgia has shown its dedication to reaching its ultimate objective of integration and on that path its resilience in front of the new challenges. The time has come for the alliance to have more solidarity and more audacity," Salome Zourabichvili declared.
NATO Secretary-General Jens Stoltenberg hosted Georgian President Salome Zourabichvili at a meeting at NATO Headquarters on Friday.