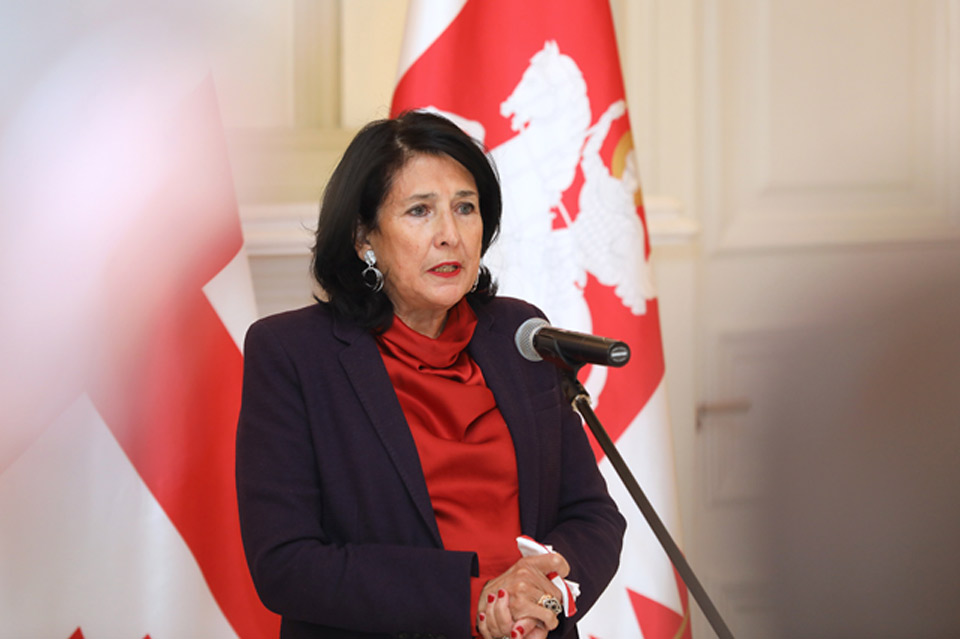 Georgian President calls Russian aggression 'anachronism, trapped in century of totalitarianism'
Georgian President Salome Zourabichvili on Monday held a joint press point with her Moldovan colleague Maia Sandu in Chisinau.
Zourabichvili spoke about Russia's ongoing war in Ukraine, saying "Russia's aggression does not reflect the present day, but is an anachronism, trapped in the century of wars and totalitarianism."
Georgia's President emphasised that "as a country with occupied territory, this challenge is considerably more urgent for us."
"The war in Ukraine poses the greatest threat to our countries, Europe, and the entire globe. Therefore, violence cannot triumph. Injustice cannot triumph," she asserted.
In her speech, Zourabichvili decried Russian aggression against sovereign Ukraine and its people. "I strongly denounce Russia's annexation of Ukrainian regions. I express Georgia's and the Georgian people's sympathy with Ukraine and the Ukrainian people."
She noted that "the key weapon against Russia's cruelty is the unprecedented international community's solidarity with Ukraine."
"We've been through other eras, other wars, other occupations, when our partners saw Russia through various lenses and yet believed that, despite these acts, Russia could be a trusted partner for them. The conflict in Ukraine altered this perspective, and everyone saw the true face of Russian aggression, Russia's imperial vision and actions," She emphasised.
First time in 12 years that a President of Georgia visits Moldova. But my visit carries even more importance in the face of Russia's aggression on Ukraine. Our unity, our solidarity is our answer. pic.twitter.com/7wy7Hnd5e5

— Salome Zourabichvili (@Zourabichvili_S) October 17, 2022