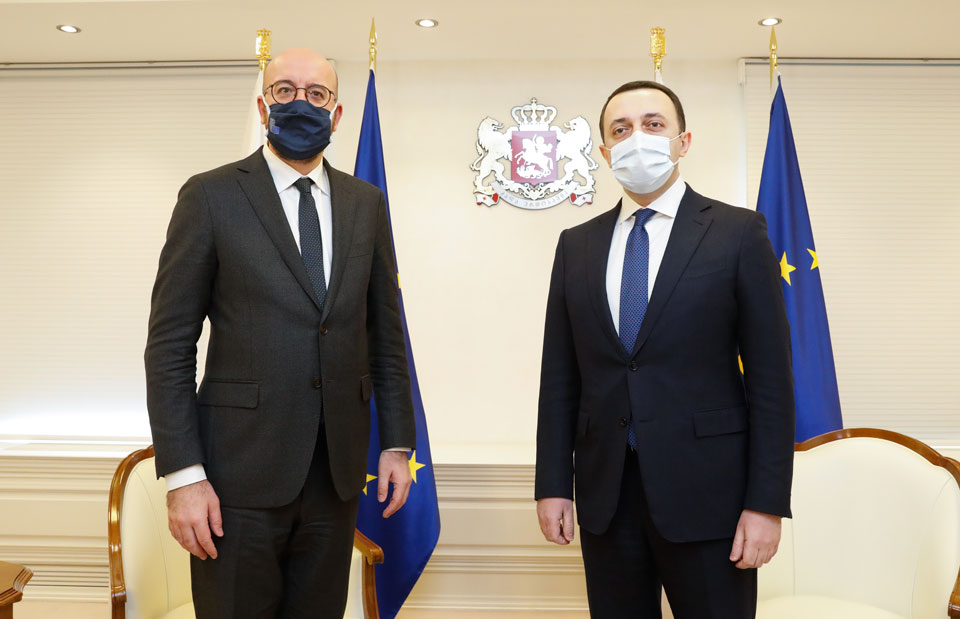 Georgian PM thanks EU for strong partnership and support
The importance of the Eastern Partnership (EaP) format, the upcoming EaP summit, and Georgia, as an associate country's success, were in focus during the meeting between European Council President Charles Michel and Georgian Prime Minister Irakli Gharibashvili on Monday.
The parties stressed the significance of a constructive dialogue amid ongoing political processes and regional challenges, the government's press service reported.
According to the press statement, PM thanked Charles Michel for a visit that reiterates strong partnership and support.
European Council President and Georgian PM underscored the dire humanitarian and human rights situation in the occupied Georgian territories, illegal detentions of Georgian citizens, and the importance of the EU's active involvement in the peaceful conflict resolution process.
"The sides discussed Covid 19-related challenges in Georgia and the EU. PM thanked the EU for the support in the fight against the novel virus. Gharibashvili highlighted the international partners' crucial role in securing coronavirus vaccine in Georgia shortly," the press statement reads.
European Council President is meeting with the top officials in Georgia. He will also meet the Georgian political parties.
Charles Michel will visit the occupation line, attend the opening of the EU new office, and inspect the EU-funded project.
Charles Michel will depart from Georgia on March 2.