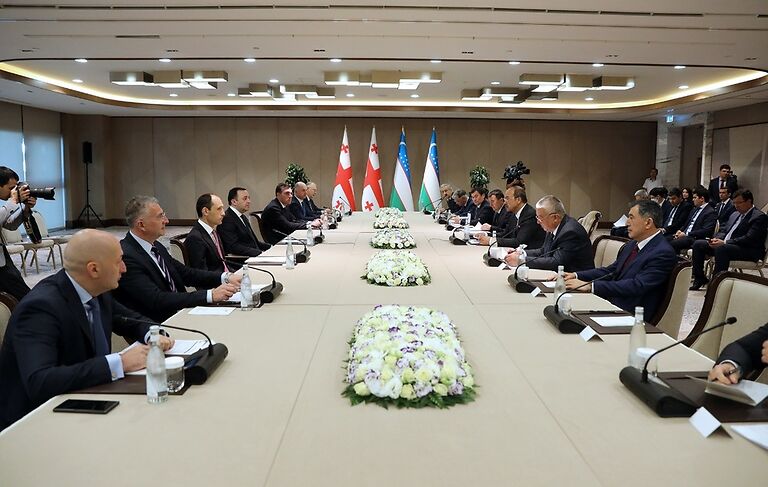 Georgian PM meets Uzbek counterpart
Georgian Prime Minister Irakli Garibashvili met with his Uzbek counterpart, Abdulla Aripov.
At the meeting, the parties discussed cooperation between the two countries, focusing on economic relations, hailing Georgia as one of the most important transport corridors for Uzbekistan.
According to Irakli Garibashvili, in order to strengthen the role of the logistics centre of the country, Georgia participates in the projects of the Baku-Tbilisi-Kars railway, the construction and reconstruction of the East-West highway and the Black Sea-Caspian Sea transport route.
It was also said at the meeting that in 2021, the turnover of bilateral trade will increase by 18.5% and will reach 115,000 million dollars. It was noted that Georgia is interested in further improving the export volumes of Georgian wines and mineral waters to the markets of Uzbekistan, among others.
The parties discussed the creation of joint enterprises and the possibility of using Georgia's transport infrastructure and ports for Uzbekistan to bring their products to the European market.
Irakli Garibashvili noted that Georgia and Uzbekistan historically have very good and friendly relations.
"We, Georgia and Uzbekistan, had and still have very good and friendly relations, but, of course, the purpose of my visit is to further strengthen these relations and take them to another level. Mr Prime Minister, yesterday we discussed a lot of issues, there are a lot of resources and I am sure that we will be able to further develop our relations. Georgia and the Georgian people are your friends. Once again, thank you very much and we look forward to seeing you in Tbilisi," he said.
Abdullah Aripov emphasized that the visit of the Prime Minister of Georgia to Uzbekistan is important for the relations between the two countries.