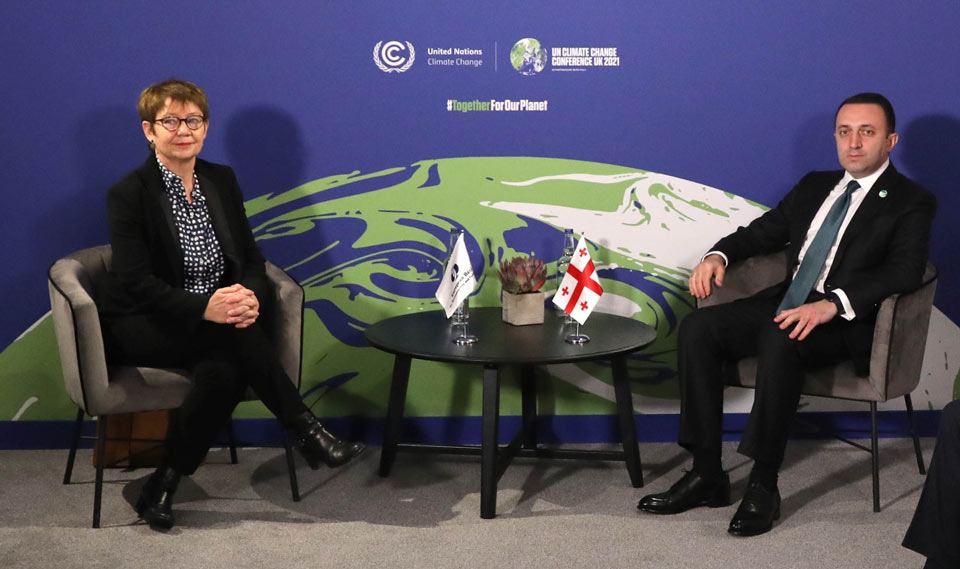 Georgian PM meets EBRD President in Glasgow
Irakli Garibashvili, Prime Minister of Georgia met Odile Renaud-Basso, President of the European Bank for Reconstruction and Development (EBRD) today.
According to the government's press service, the meeting was held in Glasgow within the scope of the United Nations (UN) 26th Climate Change Conference. Successful cooperation between the Government of Georgia and EBRD was highlighted at the meeting, "as it resulted in a number of significant projects implemented in the country."
"The President of EBRD stressed the importance of political stability in Georgia, thereby noting that it is essential to focus on the development agenda after the completion of the election process. It was noted that exposure of EBRD in Georgia has amounted to almost 4 billion Euros so far, which were channelled through 250 projects and it is most important that the bulk of it is disbursed in the private sector of the country, which has a tremendous impact on the development of the economy. The focus of the meeting was made on the significant importance of EBRD for the reforms implemented on the way to the European integration and economic transformation of Georgia," the statement read.
The Prime Minister and President of EBRD discussed specific directions of possible cooperation in various sectors, as well as the significance of support towards small and medium enterprises (SME), which is vital for the resilience and inclusiveness of the economy.
President of EBRD confirmed the commitment assumed towards continued support of Georgia in addressing the difficulties caused by the pandemic and encouragement of strong, sustainable and inclusive recovery.
Among the priorities of the EBRD, Odile Renaud-Basso listed the support for further development in the private sector of the country, greater inclusiveness of the economy, human capital development, advancements in infrastructure and connectivity, thereby noting that EBRD continues to have close and productive cooperation with the Government of Georgia, the press statement read.
In the frames of @COP26, had a great talk w/ @EBRD President @OdileRenaud. w/ @EBRD's support, ?? implemented a number of crucial reforms & hundreds of projects w/ portfolio size of EUR 4 billion. @EBRD's role is critical in ??'s economic transformation & ?? aspirations. pic.twitter.com/Yoj5uEFryj

— Irakli Garibashvili (@GharibashviliGe) November 1, 2021