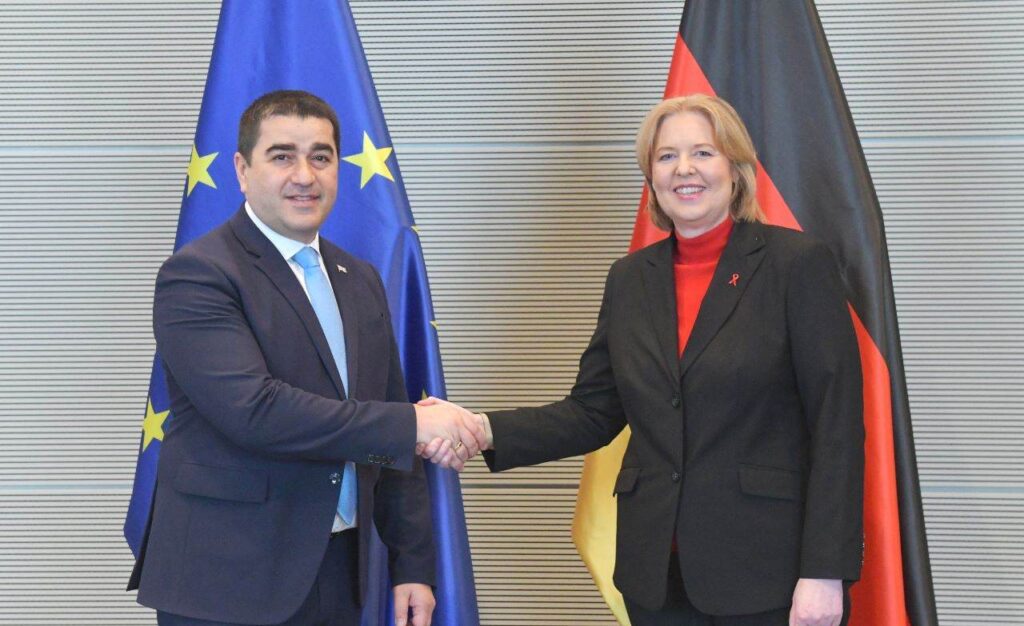 Georgian Parliament Speaker meets Bundestag President
Georgian Parliament Speaker Shalva Papuashvili on Wednesday held a meeting with the President of the German Bundestag, Mme. Bärbel Bas.
The parties highlighted the 30th anniversary of the Georgia-Germany diplomatic relations and overviewed the friendly and productive ties between the countries, the Parliament's press office has said.
Speaker Papuashvili expressed his gratitude to Germany for supporting the territorial integrity of Georgia and the institutional and socio-economic development of the country. He underlined that backed by Germany, Georgia has sustainable institutions and takes the intact path to the EU and NATO membership.
The parties touched upon parliamentary cooperation and expressed their commitment to enacting the ties between the Friendship Groups and sectoral Committees.
According to the press statement, Papuashvili provided detailed information on the EU integration progress of Georgia, including the ongoing reforms within the fulfillment of the EU recommendations. As noted, the new geopolitical context has intensified the role of Georgia as the transit and logistic hub.
The Bundestag President gave a positive assessment to the EU integration efforts of Georgia noting that Germany supports the granting of EU candidate status to Georgia.
The Parliamentary Delegation of Georgia, headed by the Speaker, serves the visit to Germany and holds bilateral meetings with the high officials in Berlin. The Delegation is composed of Nikoloz Samkharadze, Anri Okhanashvili, Levan Kobiashvili, Nino Iobashvili, Irakli Shatakashvili, and Khatuna Samnidze.
Reviewed 30 years of strong partnership between 🇬🇪&🇩🇪 with @BarbelBas, President of @Bundestag. 🇩🇪's contribution to strengthening 🇬🇪's democratic institutions has been immense. Talked about parliamentary ties, 🇬🇪's EU membership path, ongoing reforms and 🇬🇪's transit potential. pic.twitter.com/RL132xnfpF

— Shalva Papuashvili 🇬🇪 (@shpapuashvili) November 30, 2022