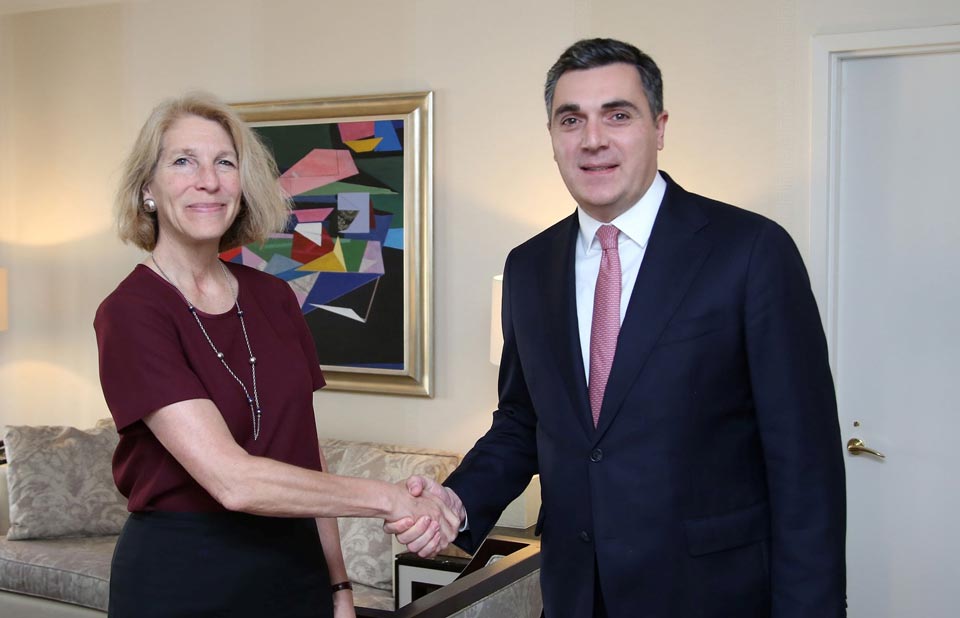 Georgian FM, U.S. Assistant Secretary of State meet in New York
Within the framework of the UN General Assembly, Georgian Foreign Minister Ilia Darchiashvili met U.S. Assistant Secretary of State for European and Eurasian Affairs, Karen Donfried.
The sides discussed the priority areas of the U.S.-Georgia strategic partnership and regional security issues.
Georgian FM welcomed the appointment of Ambassador Philip Reeker as Senior Advisor for Caucasus Negotiations and as U.S. Representative for the Geneva International Discussions and noted that his involvement will add a new impetus to the efforts to establish peace and stability in the region.
The sides also discussed the issues relating to the strong strategic partnership between Georgia and the U.S. and expressed the readiness to continue working together to deepen cooperation between the two countries, including by strengthening democratic institutions, in the field of defence and security, as well as towards strengthening trade and economic ties.
The Minister expressed his gratitude for the unwavering support of the U.S. to Georgia during the 30-year partnership.
"Looking forward to continue joint work to further strengthen US-Georgia strategic partnership and advance peace and security in our region," Ilia Darchiashvili wrote on Twitter following the meeting.
Had a great conversation with AS @KDonfried. Welcomed the appointment of Amb. Philip T. Reeker as the 🇺🇸 Senior Advisor for Caucasus Negotiations. Looking forward to continue joint work to further strengthen 🇺🇸🇬🇪 strategic partnership and advance peace & security in our region. pic.twitter.com/5Z28P8WgQz

— Ilia Darchiashvili (@iliadarch) September 21, 2022