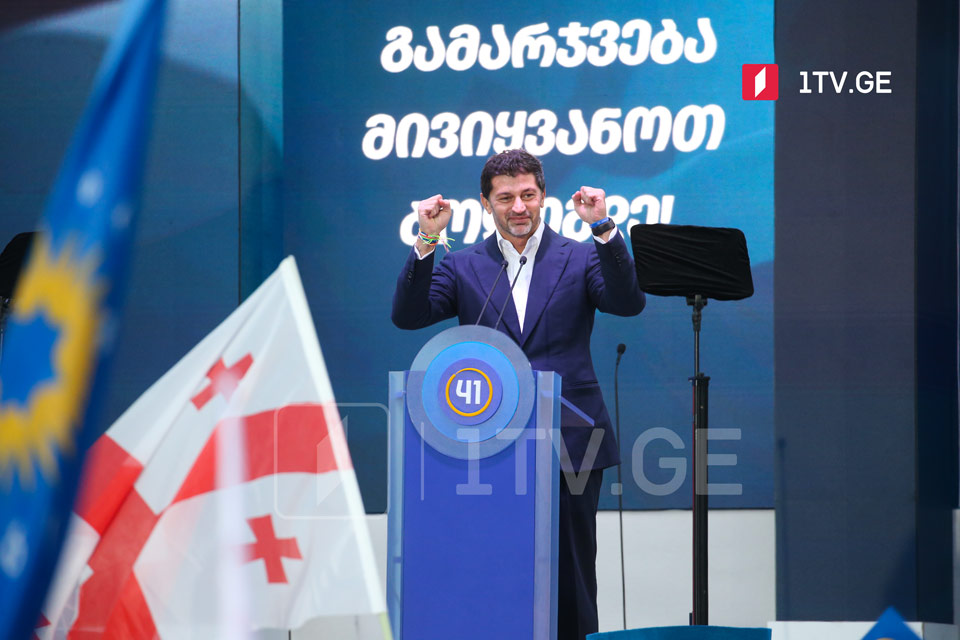 GD leaders address supporters, promise Georgia's development
GD leaders address supporters, promise Georgia's development
The ruling Georgian Dream (GD) party supporters attended a closing pre-election rally at Liberty Square in downtown Tbilisi.
The GD leaders addressed people, promising the party to focus on the country's development.
GD Chairman Irakli Kobakhidze claims the ruling party spares no effort "to ensure the rapid progress and development of our country."
"We have our Georgian dream, a dream of a united Georgia, return of Abkhazia and Tskhinvali, our Abkhazian and Ossetian sisters and brothers. Our dream is Georgia with strong cities, villages, and families. Our dream is to become a full member of the European family," Kobakhidze asserted.
In his address, Parliament Speaker Kakha Kuchava said the next three years should be dedicated "to progress and reforms."
"Of course, the main challenge still is the occupation. I greet our Abkhaz and Ossetian brothers and sisters and promise to try hard to live together in a united and peaceful Georgia. I believe that October 30 [referring to runoffs] will end with the victory of the Georgian Dream, the Georgian state, a guarantee of development, stability and peace," Kuchava said.
Tbilisi mayoral candidate Kakha Kaladze noted that "political force's ambitions based on violence and evil should finally end on October 30."
"The second round of elections in every city, in every municipality, should reflect that this country is the homeland of peace-loving, country-loving people who respect their history, state and church," Kaladze underscored.
Culture Minister Tea Tsulukiani thanked the citizens for their" trust, support and resilience," claiming that the Georgian Dream obtained power "in a democratic way."
She addressed jailed ex-Georgian President Mikheil Saakashvili to "look out of the prison cell and see how many free Georgians are there, those who remember your violent regime and reject you," she said.